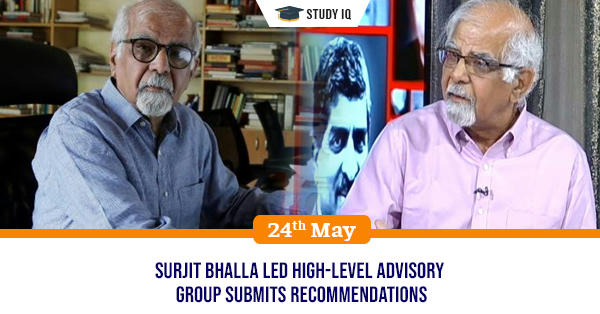 Surjit Bhalla led high-level advisory group submits recommendations
Date: 24 May 2019
Tags: External Sector
The high-level advisory group headed by Surjit Bhalla has submitted its report to Union Ministry of Commerce and Industry. It has given nine non-industry specific recommendations also include building a comprehensive export strategy and rationalise tariff structure. It has recommended road map for doubling India's exports of goods and services to over US $1,000 billion by 2025.
Background
The Union Ministry of Commerce had constituted 12 member high-level advisory group on trade to look at ways to boost India's share and importance in global merchandise and services trade in the challenging world scenario. It was headed by economist Surjit Bhalla. It was tasked to examine prevailing international trade dynamics, including rising protectionist tendencies, especially on part of major economies, non-engagement by some countries on outstanding issues and commitments, including WTO-Doha Development Agenda and their insistence on pursuing negotiating mandates, in many cases prematurely and without efforts, to build consensus and common understanding,.
Recommendations
Tax cuts to boost exports:

Lowering effective corporate tax rate, bringing down cost of capital and simplifying regulatory and tax framework for foreign investment funds. It noted that India's competitors have less than 20

%

effective tax rates. t proposed setting up of empowered investment promotion agency.

EXIM Bank:

Increasing capital base of EXIM Bank by another Rs 20,000 crore by 2022.

FTAs:

There is need for in-depth assessment of existing trade agreements (FTAs) and their impact on competitiveness of Indian industry. It suggested that remedial measures, if any, to be considered for future FTA negotiations and maintaining a database based on such assessment. It also recommended seeking inputs from industry and MSMEs before signing FTAs and sensitising them of its benefits.

Amnesty-like scheme

: Government to create Elephant Bonds (25-year sovereign bonds) in which people declaring undisclosed income will be bound to invest 50

%

. This fund will be utilised for infrastructure projects only.

State governments:

They should be closely involved in improving competitiveness of exports by providing support measures in World Trade Organisation (WTO) consistent manner.

Medical Sector

: There should be separate regulation for medical devices and a single ministry for the sector.

Textiles and garments sector:

It suggested modification in labour laws (like t Industrial Disputes Act, 1947) to remove limitation on firm size and allow manufacturing firms to grow.

Tourism and medical value tourism:

To promote it has recommended simplification in medical visa regime, setting up of a pan-India tourism board.

Promote agriculture exports:

It has asked for abolishing Essential Commodities Act and the APMC (Agricultural Produce Market Committee).