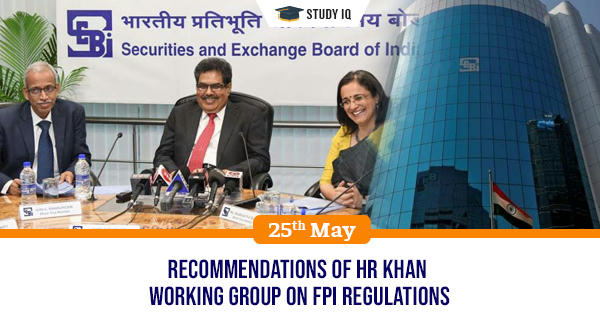 Recommendations of HR Khan Working Group on FPI Regulations
Date: 25 May 2019
Tags: External Sector
The Working Group on "Foreign Portfolio Investment (FPI) Regulations", under the Chairmanship of H.R. Khan, has submitted its report to Securities and Exchange Board of India (SEBI). The recommendations of the report have been incorporated by SEBI in the draft FPI Regulations. It has suggested ways to ease FPI regulations in the country with a view to tap foreign savings to meet liquidity and investment needs.
Background
The working group was constituted by SEBU in March 2018 under Chairmanship of H.R. Khan, Deputy Governor (Retired), Reserve Bank of India (RBI). It was mandated to advise SEBI on redrafting SEBI (Foreign Portfolio Investors) Regulations, 2014 for simplification.
Key recommendations of working group
Ease of access: Fast track on-boarding process for select category II FPIs, simplify registration for multiple investment manager (MIM) structures, consider pension fund for category I FPI registration, give broad based status for insurance/ re-insurance entities, allowing entities established in international financial services centre(IFSC) be deemed to have met jurisdiction criteria for FPIs, etc.
Simplification of documentation: It has recommended removal of 'opaque structure" definition, and called for simplification of KYC documentation for category III FPI etc.
Review of Investment restriction: Liberalized investment cap, reclassification of investment from FPI to FDI, harmonization between investment restrictions in FPI regulations and FEMA 20(R), permitting FPIs for off-market transactions etc.
Other aspects: Strenghening of offshore derivative instrument (ODI) framework, Alignment between FPI and alternative investment fund (AIF) routes, etc.