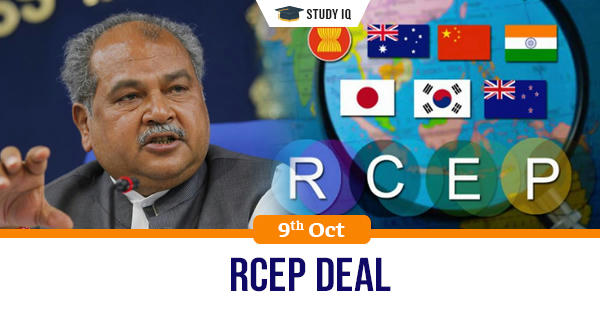 RCEP deal
Date: 09 October 2019
Tags: Miscellaneous
Issue
Agriculture Minister Narendra Singh Tomar has communicated to Commerce minister Piyush Goyal the importance of protecting farmers' interests while negotiating the RCEP trade agreement.
Background
RCEP will remove customs duty on about 80-85% of items. The result will be that Chinese and other cheap goods will flood the Indian market even more. There are some concerns regarding impact of this deal on domestic sectors.
Details
RCEP
The RCEP (Regional Comprehensive Economic Partnership) is a proposed free trade agreement between India, China, Japan, South Korea, Australia, New Zealand and the ten member-states of the ASEAN (Association of South East Asian Nations) grouping.
Benefits of RCEP
It is expected to provide market access for India's goods and services exports and encourage greater investments and technology into India.

It would facilitate India's MSMEs to effectively integrate into the regional value and supply chains.

The RCEP would help India streamline the rules and regulations of doing trade, thus reducing the trade costs.
Threats due to RCEP
Concerns expressed by various industry sectors have been the possibility of large-scale dumping of Chinese goods and the impact on Indian manufacturing.

The effect on Indian agriculture if the domestic market is opened up to dairy and farm produce, especially from Australia and New Zealand.

RCEP will cause widespread unemployment and reduce the income of rural farmers who will be impacted due to easy goods imports from other countries.