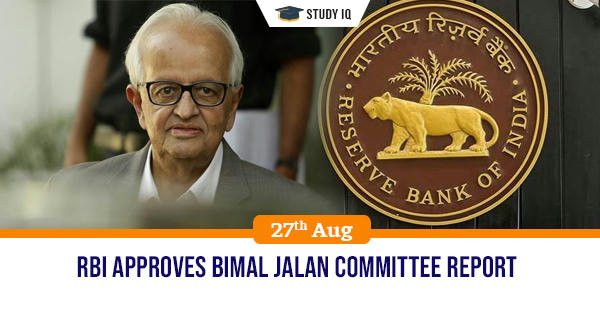 RBI approves Bimal Jalan committee report
Date: 27 August 2019
Tags: Economic Reforms
Issue
Central board of the Reserve Bank of India (RBI) on Monday accepted Bimal Jalan committee's recommendations and approved a surplus transfer of Rs 1.76 lakh crore to the government .

Background
The RBI does its risk analysis and sets out a part of its surplus profits to be transferred to the government.

The reason for the conflict is simple: the government wants more surplus; the RBI wants to keep more reserves from profits for unforeseen risks.

The central bank, in consultation with the government, had constituted a committee chaired by former RBI governor Bimal Jalan to review the buffer funds to be held by the RBI.
Details
The RBI committee has recommended a surplus distribution policy, which targets certain amount of equity to be maintained by RBI within the overall level of its economic capital.

RBI's realized equity, which is a form of contingency fund for meeting all risks/losses which is built up from retained earnings, currently stands at 6.8% and the Jalan committee recommends it to be in the range of 6.5-5.5% of the balance sheet.

An amount of 28,000 crore has already been paid as interim dividend, and will be transferred to the Government of India. This is in addition to the 52,637 crore of excess risk provisions that has been recommended to be transfered by the committee.
Benefits of surplus
The additional amount of 86,000 crore that the government will receive this year above its budgeted 90,000 crore as transfers from RBI could be either used to provide fiscal stimulus to a sagging economy, reduce off-balance sheet borrowings or meet the expected shortfall in revenue collections.

The government might not use this for spending and could instead use it to meet the possible revenue shortfall.
Way Forward
Sensible thing for the government would be to reduce the balance sheet and off-balance sheet borrowings using the additional transfer from RBI.

The recapitalization bonds issued for public sector banks and huge borrowing by the Food Corporation of India from the small savings fund have to be properly accounted for.