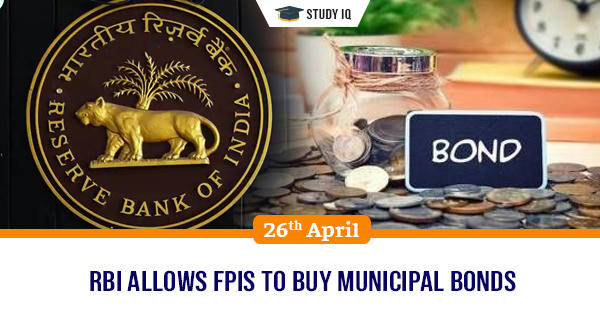 RBI allows FPIs to buy Municipal Bonds
Date: 26 April 2019
Tags: Public Finance
Reserve Bank of India (RBI) has further eased norms for foreign portfolio investors (FPIs) by allowing them to invest in municipal bonds under prescribed limits. This decision is aimed at broadening access of non–resident investors to debt instruments in India.
Limits for FPIs in investing in municipal bonds
FPI investment in municipal bonds will be reckoned within the limits set for FPI investment in State Development Loans (SDLs). The current limits set for SDLs amount to 2% of outstanding securities.
Background
Municipal bond is bond or debt instrument or secuirty issued by local government or territory, or one of their agencies. It is generally used to finance public infrastructure projects such as roads, schools, airports and seaports, and infrastructure-related repairs.
At present, investing in municipal bonds in India is not popular opinion as majority municipalities are not cash rich. But economists believe that if FPIs start investing in these bonds, domestic players also might find interest and also could prove to be good income source for municipalities