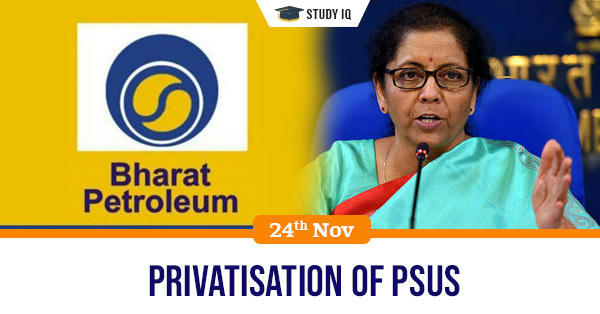 Privatisation of PSUs
Date: 24 November 2019
Tags: Economic Reforms
Issue
On November 20, the government announced that it would sell stakes in several public sector undertakings (PSUs) and even give up management control in some.
Background
The Central government will cede full management control to buyers in the case of oil marketing company Bharat Petroleum Corporation Ltd. (BPCL), Shipping Corporation of India (SCI) and Container Corporation of India Ltd (CONCOR).
Details
There is a belief that the government's role is to facilitate a healthy business environment but the core competence of a government does not lie in selling fuel or steel at a profit.

Since the government always has to spend more than they earn through taxes and other means, additional income from the proceeds of a stake sale is always welcome.

This is important, especially in case of India now, where it has fallen to the government to spend higher amounts on infrastructure to boost economic growth, along with its commitments on health and education.
Strategic sale and divestment
A strategic sale by a government is one where the management control is ceded to the buyer.

A divestment could be stake sale to a buyer, via an initial public offering or a direct deal, but in which the government still retains majority and management control.

A strategic sale is also different from cases where the government transfers majority stake but only to another PSU over which it has control.
Benefits from divestments
India is currently facing an economic slowdown in which indirect tax collections are below par.

The government has cut corporate tax rates hoping that companies will use these savings for price cuts or dividend payouts, or for investments that create jobs.

As a result of cut and to-be-cut tax rates, the government would have less and less cash for its own expenditure in infrastructure and the social sector.

If the fiscal deficit goes out of hand, then the global rating agencies will lower the country's investment grade. This will make getting loans from foreign sources more costlier. The money from divestment could act as cusgion in such situations.

Meeting the year's disinvestment target would give the government some respite from the string of bad fiscal news that has been comin its way.