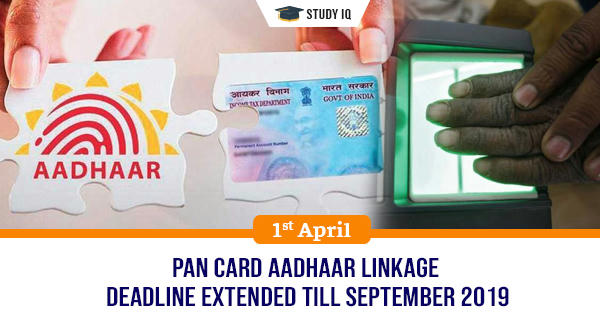 PAN Card Aadhaar linkage deadline extended till September 2019
Date: 01 April 2019
Tags: Public Finance
Central Board of Direct Taxes (CBDT) has extended date of linking Permanent Account Number (PAN) card with Aadhaar by six months till September 30, 2019 from existing deadline of March 31, 2019 This is for the sixth time government has extended the deadline. However, CBDT has announced that Aadhaar will remain mandatory for filing income tax returns (ITRs) following the Supreme Court order.
Background
The five-judge Supreme Court constitution bench in September 2018 had declared Central Government's flagship Aadhaar scheme as constitutionally valid and held that biometric ID would remain mandatory for filing of IT returns and allotment of PAN. However, it held that it is not mandatory to link Aadhaar to bank accounts and telecom service providers cannot seek its linking for mobile connections.
The apex court in its February 2019 order also had upheld section 139AA of Income Tax (IT) Act. It also upheld mandatory to link PAN with Aadhaar number for filing income tax return.
Section 139AA of IT Act
It was introduced by Finance Act, 2017. It makes mandatory to Aadhaar for the filing of return of income as well as in application form to enrol for PAN. It makes mandatory for those possessing PAN numbers to link with their Aadhaar. In case of failing to do so, it prescribes to invalid the PAN number.