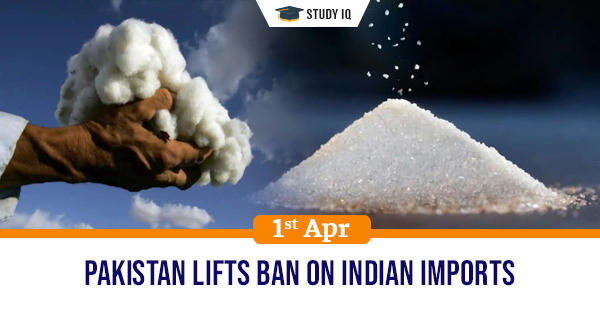 Pakistan lifts ban on Indian imports
Date: 01 April 2021
Tags: Miscellaneous
Issue
Pakistan has decided to lift the ban on import of cotton and sugar from India after a gap of two years.
Background
The lifting of ban is a part of effort by two countries to normalise their relations after India abrogated Article 370.
Details
Trade relations between two countries are politically linked. The trade was about $2.17 billion in 2015-16 but fell by about 16 percent in subsequent year.

This was because of the Uri attack by Pakistani backed terrorists and subsequent surgical strikes by India on terrorist launch pads in PoK.
Trade trends
India has a trade surplus with Pakistan. It was among India's Top 50 trade partners but fell out of favour due to growing tensions.

The trade ban between the two countries would affect Pakistan more since it relies heavily on import of Indian raw materials for its textiles and pharmaceutical industries.
Major import items of Pakistan
Cotton and organic chemicals make up more than half of the imports. Other imports include plastics, dyeing extracts, boiler machinery etc.

The import of most of the items reduced significantly in recent years while cotton stopped completely. However, pharmaceuticals and drugs imports increased during Covid pandemic.
India's imports
India's imports from Pakistan includes mineral oils, fruits and nuts, stone and plastering materials, sulphur, salt, raw leather etc.
Reason for trade ban
Pakistan cited change in status of J&K after abrogation of Article 370 as the reason for trade suspension.

However, the main reason was the 200 percent tariff imposed by India on imports from Pakistan when it revoked the MFN status given to it.
Change in stance by Pakistan
The decision by Pakistan to lift the ban on cotton imports was due to shortage in raw material for Pakistan's textile sector.

Alternative imports from Brazil and USA are costly and take more time to arrive as compared to India.

The decision on sugar was taken after prices escalated in domestic market. The government decided to buy sugar from India to stabilize the prices.