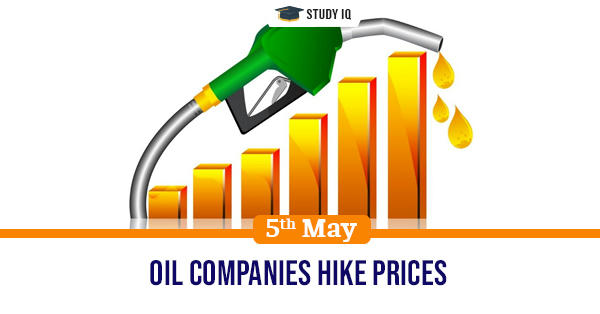 Oil companies hike prices
Date: 05 May 2021
Tags: Miscellaneous
Issue
The prices of petrol and diesel have been hiked by the Oil marketing companies in a first increase in many weeks.
Background
The Oil Marketing Companies had temporarily suspended hiking of prices owing to elections to several state assemblies.
Details
The Oil Marketing Companies had to suspend hike after it became a poll issue. They were forced to absorb negative gains during this period.

The current prices are at record high owing to a combination of price hike as well as high taxation on these commodities.

Since the beginning of this year, petrol price has been increased by Rs 6.8 per litre and diesel price by Rs 7 per litre.
Reason for hike
The taxes on petrol and diesel have been source of revenue for the government. By raising the taxes, the government aims to bridge deficit in other sectors.
Future prices
The crude prices have achieved stability since couple of months but oil companies are trying to make up the losses they made during price freeze.

Oil companies were also banking on inventory gains to increase their profits but it did not because crude oil price did not rise much.
Inventory gains
The value of petroleum products as well as crude oil held by an oil company is termed as inventory gain.
Importance of oil prices
Oil plays a major role in energy security of India. Rise or decline in oil prices will detrimental to financial security.

Rise in crude oil prices can create inflation and depreciate domestic currency. It will have a deep impact on lives of common citizens.