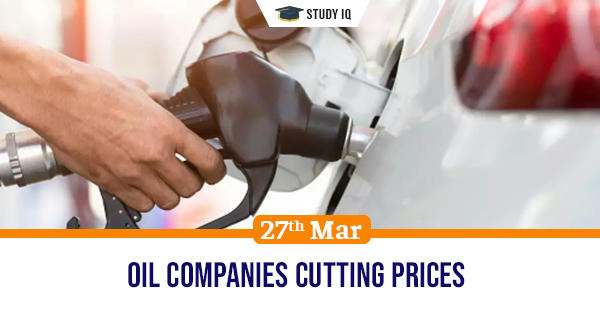 Oil companies cutting prices
Date: 27 March 2021
Tags: Miscellaneous
Issue
Oil companies have cut prices of petrol and Diesel on second consecutive day after a near six-month period.
Background
The price of barrel of Brent crude oil fell prompting the rate cuts. The earlier demand had skyrocketed the prices across the country.
Details
Oil marketing companies have started to cut prices after keeping them constant for a period of 24 days. This was because of volatility that had escalated the prices.

The elections for state assemblies in West Bengal, Assam, Tamil Nadu, Kerala and Puducherry has forced oil companies to keep oil prices constant.

The central government has not reduced the hike in excise duty imposed on petrol and diesel that was done to boost revenue during pandemic.
Reason for fall in prices
The demand for crude oil had allowed the prices to rise post October but fears of new Covid-19 restriction in Europe have made the prices to fall.

Crude oil prices continued to grow as the OPEC+ nations decided to cut production despite crude oil prices reaching near pre-covid levels.

Rising crude oil prices have increased oil output from USA, which had reduced its production after being hit by the pandemic.

The move by India to reduce its oil supplies from Saudi Arabia may increase production in US, which has recently become second largest supplier of India.