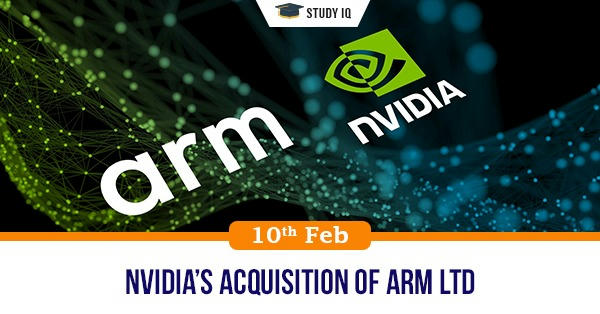 Nvidia's acquisition of Arm Ltd
Date: 10 February 2021
Tags: Miscellaneous
Issue
American chipmaker Nvidia's $40 billion acquisition of Arm Ltd from SoftBank Group has come under a cloud.
Background
This is in addition to the US Federal Trade Commission announcing last year that it will be seeking additional information about the deal to ensure it didn't breach competition rules.
Details
In September, Nvidia had announced that it will purchase Arm from SoftBank for $40 billion. This became the largest-ever deal in the semiconductor industry.

Even though China is still looking to develop its presence in the semiconductor industry, the deal saw protests from other countries like South Korea and Taiwan.

Mergers and acquisitions in the semiconductor industry more than doubled last year to $144 billion, marking a consolidation drive of the sector.
Opposition to deal
Rivals of the two companies fear potential locking out of smaller players if Nvidia decides to put brakes on Arm's open-licensing business model.

As a supplier of chip designs and intellectual property to most players in the semiconductor industry, Arm has managed an unparalleled reach with large customers like Intel, Samsung, Apple, Qualcomm, etc.

If Nvidia can merge the Arm and Nvidia designs in the same software then that locks out companies from entering the seller market.

In addition to the impact that Nvidia's acquisition of Arm could have on its rivals, the regulators are also looking at the impact of a deal this size on the strategic interests of their respective jurisdictions.

The UK has also noted earlier that it plans to put greater scrutiny on strategic deals in the technology sector, irrespective of the size of a deal.
Global semiconductor industry
The worldwide semiconductor revenues in 2020 stood at $449.8 billion, an increase of 7.3% from 2019.

Intel retained its position as the top global semiconductor vendor by revenue in 2020, followed by South Korean firms Samsung Electronics and SK hynix at number 2 and number 3.