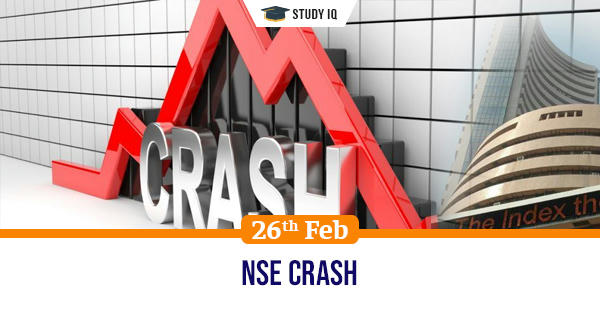 NSE crash
Date: 26 February 2021
Tags: Miscellaneous
Issue
The National Stock Exchange (NSE) has come under criticism for failing to communicate a technical glitch that led to a halting of trading.
Background
The trading halt and subsequent opening of the market for an extended time created significant volatility as it came during the monthly expiry of derivative contracts.
Details
The indices such as NIFTY and Bank NIFTY stopped updating from around 10:08 IST, but the exchange did not communicate anything till 11:30 IST, creating confusion and nervousness among market participants.

NSE sent a message through its National Exchange for Automated Trading (NEAT) terminals, saying trading was being halted from 11:40 IST.

Around 15:17 IST, the NSE informed all brokers that trading will open again at 15:45 IST, and continue till 17:00 IST for both cash and futures and options (F&O) segment.
Impact of the glitch
The trading halt impacted day traders, brokers, and people trading on margin, as most brokers took the call of squaring off cash positions at BSE prices.

Since NSE extended the trading hours after the technical glitch was resolved, traders whose trades were squared off at lower prices, were impacted.
Trading disruptions
Trading disruptions are occasional occurrences, but are not unheard of. They often result from software glitches, hardware issues, and telecom/Internet connectivity failures.