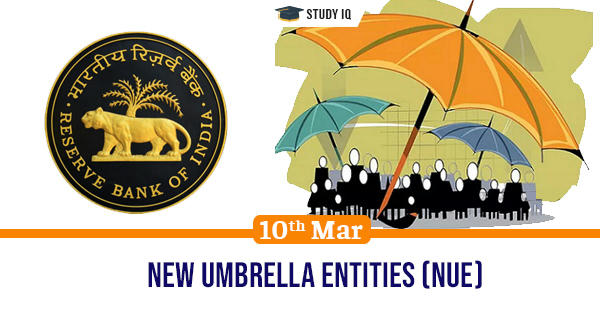 New Umbrella Entities (NUE)
Date: 10 March 2021
Tags: Miscellaneous
Issue
Major Indian companies are trying to set up new umbrella entities (NUEs) for payment systems in order to boost their presence in financial service ecosystem.
Background
NUE is an idea by the Reserve Bank of India to create a payment system similar to the existing National Payments Corporation of India (NPCI).
Details
NUE will be a non-profit entity that will set-up, manage and operate new payment systems in India.

NUE will focus on sectors such as ATMs, white-label PoS, Aadhaar-based payments and remittance services.

They will also promote new payment methodology, standards and technologies as well as operate clearing and settlement systems.
Participants
Entities owned and managed by Indian citizens with at least three years of experience in the payments sector can become promoters of NUEs.

Foreign players can also participate if they have tie-up with local entities. Facebook and Google have tied up with Reliance Jio to participate as a consortium.

Other companies such as Tata Group, Amazon, Bharti Airtel, PayTm, Ola and may other companies have made their respective tie ups to apply for license.
Need for NUE
Currently, NPCI handles all the settlement systems such as UPI, AEPS, RuPay, Fastag etc. There is a belief that NPCI should not become a sole entity.

RBI's plan to allow other entities to set up umbrella entities for payments systems aims towards expanding the competition in this area.