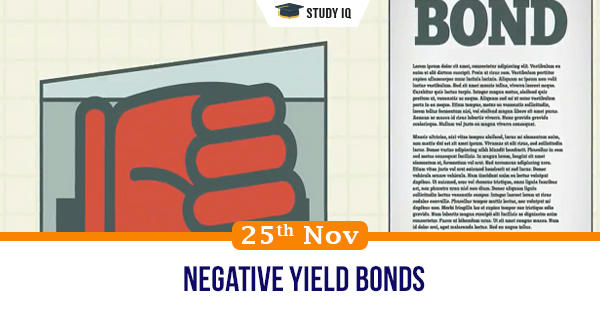 Negative yield bonds
Date: 25 November 2020
Tags: Miscellaneous
Issue
China has sold negative-yield debt for the first time, and this saw a high demand from investors across Europe.
Background
Negative yield bonds signal the slowdown in economy. Bonds offering lower than buying rate are attractive as a measure of playing safe.
Details
These are debt instruments that offer to pay the investor a maturity amount lower than the purchase price of the bond.

These are generally issued by central banks or governments, and investors pay interest to the borrower to keep their money with them.

Negative-yield bonds attract investments during times of stress and uncertainty as investors look to protect their capital from significant erosion.
Reasons for demand
At a time when the world is battling the Covid-19 pandemic and interest rates in developed markets across Europe are much lower, investors are looking for relatively better-yielding debt instruments to safeguard their interests.

The 10 year and 15 year bonds are yielding positive return whereas in Europe, yield has been mostly in negative territory.

While the majority of the large economies are facing a contraction in their GDP for 2020-21, China is one country that is set to witness positive growth in these challenging times.

European investors are also looking to increase their exposure in China, and hence there is a huge demand for these bonds.

There is an expectation that the new US government may impose fresh lockdowns in the as Covid cases are picking up in various US states and European countries, whereas China seems relatively safe now from that perspective.
Bonds
Bonds are units of corporate debt issued by companies and securitized as tradeable assets.

A bond is referred to as a fixed income instrument since bonds traditionally paid a fixed interest rate (coupon) to debt holders. Variable or floating interest rates are also now quite common.

Bonds have maturity dates at which point the principal amount must be paid back in full or risk default.