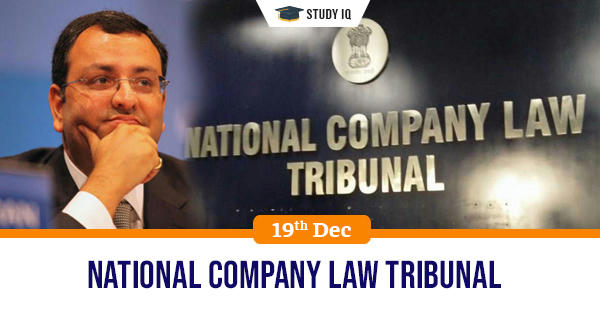 National Company Law Tribunal
Date: 19 December 2019
Tags: Miscellaneous
Issue
The NCLAT restored Cyrus Mistry as the Executive Chairman of the Tata Group. This judgement renders N. Chandrasekaran's appointment as Executive Chairman of the company illegal.
Background
The National Company Law Tribunal had previously dismissed Mistry's legal action on the grounds that such cases, brought by investors, require a minimum shareholding condition to be met.
Details
NCLT
The National Company Law Tribunal is a quasi-judicial body in India that adjudicates issues relating to Indian companies.

The tribunal was established under the Companies Act 2013 and was constituted on 1 June 2016 by the government of India and is based on the recommendation of the Justice Jain committee on law relating to insolvency and winding up of companies.

The tribunal has sixteen benches, six at New Delhi (one being the principal bench) and two at Ahmedabad, one at Allahabad, one at Bengaluru, one at Chandigarh, two at Chennai, one at Cuttack, one at Guwahati, three at Hyderabad of which one is at Amaravathi, one at Jaipur, one at Kochi, two at Kolkata and five at Mumbai.

Decisions of the tribunal may be appealed to the National Company Law Appellate Tribunal, the decisions of which may further be appealed to the Supreme Court of India on a point of law.
Functions
All proceedings under the Companies Act, including proceedings relating to arbitration, compromise, arrangements and reconstruction and winding up of companies shall be disposed of by the National Company Law Tribunal.

NCLT bench is chaired by a Judicial member who is supposed to be retired/Serving High Court Judge and a Technical member who is from Indian Corporate Law Service, ICLS Cadre.

The National Company Law Tribunal is the adjudicating authority for insolvency resolution process of companies and limited liability partnerships under the Insolvency and Bankruptcy Code, 2016.