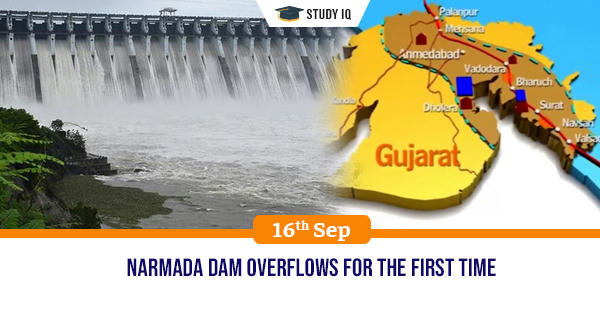 Narmada dam overflows for the first time
Date: 16 September 2019
Tags: Infrastructure
Issue
Gujarat's Narmada dam is set to overflow at its full 138.68-metre height for the first time, after it was completed with the installation of gates in 2017.
Background
Owing to heavy rains in catchment areas of Narmada river in Madhya Pradesh and subsequent release of water from upstream dams, the inflow of water in Sardar Sarovar Dam has been increasing continuously and is on the verge of overflow.
Details
With large amounts of water being released from the Omkareshwar and the Indira Sagar dams in Madhya Pradesh, the dam is receiving heavy inflow.

The rise in water level has prompted authorities to issue an alert for villages along the river's banks in Narmada, Bharuch and Vadodara districts.
Sardar Sarovar Dam
The Sardar Sarovar Dam is a gravity dam on the Narmada river located near Navagam, Gujarat . Four Indian states, Gujarat, Madhya Pradesh, Maharastra and Rajasthan, receive water and electricity supplied from the dam.

Part of a development scheme is funded by the World Bank through their International Bank for Reconstruction and Development, to increase irrigation and produce hydroelectricity, using a loan of US$ 200 million.