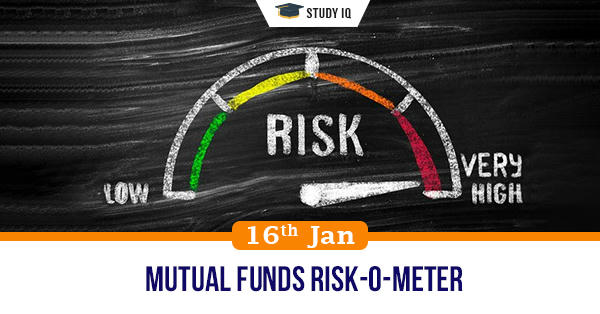 Mutual Funds risk-o-meter
Date: 16 January 2021
Tags: Basics of Economics
Issue
Capital markets regulator Securities and Exchange Board of India (SEBI) has made it mandatory for mutual funds to assign a risk level to schemes, based on certain parameters.
Background
The regulator made it mandatory for mutual fund houses to characterise the risk level of their schemes on a six-stage scale from "Low" to "Very High".
Details
All mutual funds shall assign a risk level to their schemes at the time of launch, based on the scheme's characteristics.

The risk-o-meter must be evaluated on a monthly basis. Fund houses are required to disclose the risko-o-meter risk level along with the portfolio disclosure for all their schemes.

This will have to be displayed on their own websites as well as the website of the Association of Mutual Funds in India (AMFI) within 10 days of the close of each month.

Any change in the risk-o-meter reading with regard to a scheme shall be communicated to the unit-holders of that scheme.

For measuring the liquidity risk of schemes, listing status, credit rating, and structure of debt instruments is considered.
Previous risk assessment
The earlier schemes simply showed the risk level of the category that they belonged to. They did not reflect the riskiness of individual schemes and their respective portfolios.

Fund houses must now assign a risk level out of six available levels after calculating their risk value from their respective portfolios. The "Very High" category is new.
Significance
The risk-o-meter will now provide a more objective assessment of the riskiness of a particular scheme to potential investors.

If one scheme is generating a higher return than others in the same category, investors will be able to figure out if it is taking a higher risk than others for generating these superior returns.