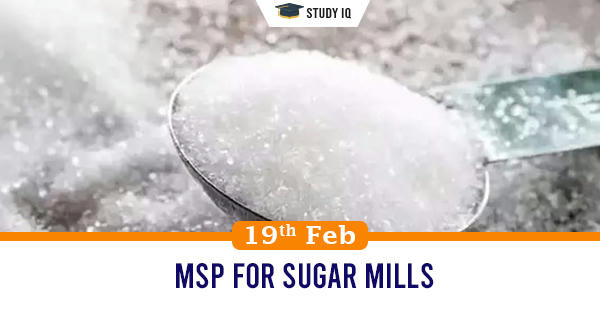 MSP for sugar mills
Date: 19 February 2021
Tags: Miscellaneous
Issue
The Ministry of Consumer Affairs, Food, and Public Distribution issued separate guidelines for sugar mills and cane commissioners in regards to sale of sugar below the Minimum Selling Price.
Background
Sugar mills have been threatened with action for selling sugar below the government-mandated MSP.
Details
To control the constant slide in ex mill prices of sugar, the central government had in June 2018 specified the concept of MSP for sugar.

Along with MSP, the centre had also fixed mill wise sales quota. Mills that breached either of the conditions were liable for action under the Essential Commodities Act, 1955 which would include fine as well as a jail term or both.

These out of box measures were brought in to arrest the constant slide of sugar and to keep the demand supply ratio to a safe limit.

It was reasoned that both these measures would help mills generate enough revenue to pay their farmers the Fair and Remunerative Price (FRP) for cane purchased from farmers.
Need for new notification
Sugar demand dips in December and January as the winter season steps in and demand for aerated drinks goes low.

Sugar mills in Maharashtra and Karnataka had started selling sugar below the MSP and in some cases more than their monthly quota of sale. This was to raise money to clear their FRP dues failing which they would face action from cane commissioners.

Sugar mills along the Karnataka and Maharashtra border in Karnataka have also been indulging in such sales.

Concerned with constant influx of below MSP sugar in the open markets mills who have so far resisted doing so had approached the central government.

It will be difficult to track sales below MSP as such transactions do not have a paper trail. On paper the mills would show the sale at MSP but the real financial transaction might be different.