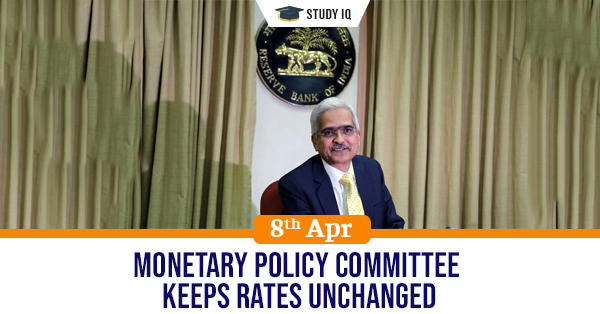 Monetary Policy Committee keeps rates unchanged
Date: 08 April 2021
Tags: Miscellaneous
Issue
The Reserve Bank of India's Monetary Policy Committee has decided to keep repo rate unchanged at 4 percent.
Background
The decision of the MPC is significance considering the tense situation that has grown due to increase in cases of covid-19 infections.
Details
The government also introduced series of measures to inject liquidity in the market and financial system.

The decision was taken after the Consumer Price Index-based retail inflation rate grew to a three-month high of 5.03 per cent in February.

The RBI has maintained India's GDP growth forecast at 10.5 per cent for 2021-22. The RBI will also conduct of government borrowing programme.
Monetary policy committee (MPC)
The MPC of the RBI is responsible for setting up benchmark interest rate in India. The meetings of the committee are held at least 4 times a year.

The committee consists of six members out of whom three are officials of the Reserve Bank of India and rest are external members nominated by the Government of India.

The RBI Governor is the ex-officio chairman of the committee. The decision is taken by majority and the governor has a casting vote.
Repo rate
Repo rate is a short term lending rate at which Reserve Bank of India lends funds to commercial banks. The repo rate is fixed by the RBI and should be followed by all banks.
Reverse-repo rate
Reverse repo rate is a short term lending rate at which commercial banks lend funds to the Reserve Bank of India.