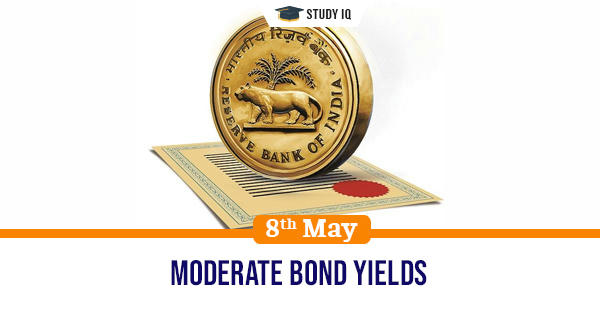 Moderate bond yields
Date: 08 May 2021
Tags: Basics of Economics
Issue
The yield on government bonds has fallen below 6 percent after the RBI increased its buying of Government securities under the securities acquisition programme.
Background
The RBI had launched the G-SAP programme in April, under which it was expected to buy Rs 1 lakh crore worth of bonds in the April-June quarter.
Details
RBI's rapid buying of G-Secs (Government Securities) has pushed the rates below 6 percent. The 10-year bond, 2030 has closed at 5.85%. It has lost its value by 15 bps since last month.
Importance of bond prices
The bond rates in market are determined by demand and supply. Greater the demand, lower the yield and vice versa.

Investors will lose money if bond yields decrease. In case bond yield increases, investors will make profits on their holdings.
Impact on investors and market
The decline in returns will be beneficial for equity markets as money from the debt investments will move towards equity investments.

When bond yield goes up, corporates will have to pay higher interest rates on debts. This will increase the chances of bankruptcy and default.
Significance of low bond yield
Keeping the bond yield will reduce cost of borrowing for the government and also reduces chances of increase in market lending rates.
Moderate bonds
Moderate bonds are short term 10-year maturity debt instrument that is used by government and other institutions to raise money and tackle cash crunch.