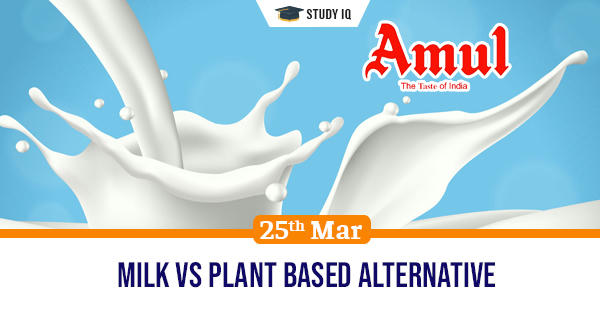 Milk vs plant based alternative
Date: 25 March 2021
Tags: Miscellaneous
Issue
Milk producer Amul has tried to bust myths about the beverages that claim to be vegan alternative to milk.
Background
The company says that many products such as beverages made from soya, almonds, oats and others have claimed to be equally nutritious as milk.
Details
Amul has criticised the use of word vanaspati as vegetable Ghee and said that ghee can only be made from milk fat and not vegetable oil.

Other dairy companies including Amul have also promoted that only "ice-cream" containing 10 per cent milk fat can be called "ice-cream". If the vegetable oil replaces milk fat, it is called frozen dessert.

Amul has also launched a peanut spread and said that peanut butter does not exist as butter can only be made from milk, which is 99.5 % milk fat.
FSSAI regulation
The new rules say that, a company cannot say that a non-milk product is made out milk through packaging or advertisement.

Nutrition present in milk derived from plant-based source is lower than those obtained from milch animals, but they are used for the same purpose.
Alternatives
Almond and soy milk are some of the popular alternative choices to milk products, however their price is high.

Concerns of environment such as greenhouse gas emissions, pollution of water by improper handling of manure and other waste from dairies influence people to switch to non-dairy products.

Cruelty to cows and buffaloes at farms are cited as ethical reasons by people for choosing alternative to dairy products.