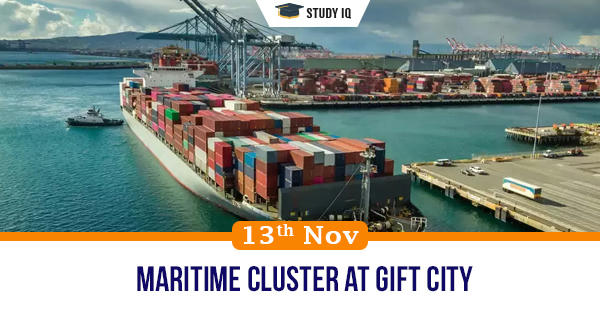 Maritime cluster at GIFT city
Date: 13 November 2020
Tags: Infrastructure
Issue
The Gujarat Maritime Board (GMB) has been trying to develop such a cluster at GIFT City in the state capital Gandhinagar.
Background
This cluster will initially consist of Gujarat-based shipping lines, freight forwarders, shipping agents, bunker suppliers, stevedores, and ship brokers with chartering requirements.
Details
A maritime cluster is an agglomeration of firms, institutions, and businesses in the maritime sector that are geographically located close to each other.

The concept of maritime cluster is new to India, but these clusters have been driving some of the most competitive ports of the world like Rotterdam, Singapore, Hong Kong, Oslo, Shanghai, and London.

The cluster would attempt to bring Indian ship owners, ship operators, Indian charterers and technical consultants scattered in cities like Mumbai, Chennai, and Delhi to Gujarat. Thereafter it would target to attract global players in the maritime sphere.

This project will try to bring back businesses that have migrated over the years to foreign locations due to the absence of the right ecosystem in the country.

An Alternate Dispute Resolution (ADR) Centre will be set up under the aegis of the Gujarat Maritime University, which will come up at the maritime cluster.

This centre in Gujarat will provide an option to Indian players seeking to avoid availing the services of international alternate dispute resolution hubs which entail huge costs, time, and travel.

The maritime cluster is largely expected to in the SEZ area of GIFT City where charterers, ship brokers, and maritime lawyers dealing in foreign currency will be based.
GIFT city
Gujarat International Finance Tec (GIFT) City located on the banks of the Sabarmati River and is India's first operational smart city and international financial services centre. It was promoted by the Government of Gujarat as a greenfield project.

The city is designed for walk to work concept and includes commercial and residential complexes.

The city has an integrated development model which has been spread out in three phases. Each phase is designed as integrated sustainable development, for example the first phase itself includes development of office space, residential, school, hotel, club etc.