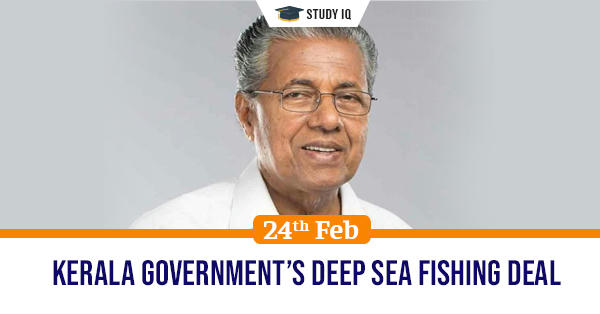 Kerala government's deep sea fishing deal
Date: 24 February 2021
Tags: Miscellaneous
Issue
The Kerala government is under fire for inking a deal with an American firm for deep sea fishing and allied processing.
Background
Opposition have called it a bid to sell off the state's marine wealth, endangering the livelihood of lakhs of fishermen in the state.
Details
The Kerala Industrial Development Corporation (KIDC) signed an MoU with EMCC International India Private Limited for Fisheries research and development for the up-gradation and promotion of deep sea fishing in Kerala.

The components of the project were building 400 deep sea fishing trawlers, five mother vessels with modern technology, upgradation of 14 fishing harbours in the state as per EU standards, 50 sea food processing plants, hospitals, and air ambulances for fishermen and aquaculture farms.

The EMCC would train and deploy fishermen in deep sea fishing. Their skills would be upgraded, and the local fishing community would benefit in terms of direct and indirect employment opportunities, apart from the supplementary economic benefits triggered by the fishing and processing activities.

The government had also signed a new agreement with the same US-based firm for manufacturing 400 deep sea trawlers and related activities at a cost of Rs 2,950 crore.

It said these deep sea vessels would be given to traditional fishermen and the company would modernise fishing harbours and engage in processing industry along the state's coast.
Deep sea fishing policy
The Union Government had in 2017 withdrawn permission given for foreign trawlers three years back for deep sea fishing in the exclusive economic zone of the country.

The EEZ of the country extends up to 370 km from the coastline. Illegal fishing by foreign vessels in Indian waters is punishable under provisions of Maritime Zone of India (Regulation of Fishing by Foreign Vessels Act) 1981.

In Kerala, 2018 the fisheries policy opposed allowing foreign and native corporate vessels along the state's coast.

The professed policy of the state is to equip the traditional fishermen for deep sea fishing by making them owners of deep sea fishing vessels.

Besides, there would be restrictions on the number of vessels. Only traditional fishermen would be given permission to replace their old boats.