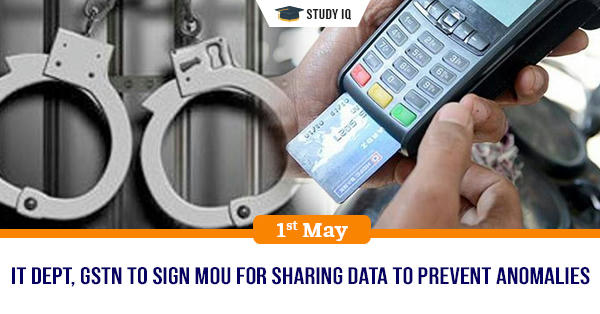 IT Dept, GSTN to sign MoU for sharing data to prevent anomalies
Date: 01 May 2019
Tags: Public Finance
The Income Tax (IT) Department and Goods and Services Tax Network (GSTN) will soon sign MoU that will allow both entities to match their data regarding company financials so as to pin down any anomalies. It is in pursuance of department order which provides for Principal Director General or Director General of Income Tax (Systems) to sign MoU with GSTN allowing them to send information on assessees to the nodal officer in GSTN.
Departmental Order
It enables GSTN to ask for and be provided data relating to assessee's status of filing income tax returns, turnover, gross total income, financial ratios, and any other data with I-T Department to be decided at later date.
It also provides for automatic exchange of such data, and not just based on requests, the modalities of which will be decided. It also gives authority to specified Income Tax authority to form opinion while furnishing information for enabling specified authority in GSTN to perform its functions under Goods and Services Tax.
Features of MoU
It will include rules pertaining to modalities of exchange and confidentiality of the data. It will also include rules pertaining to modalities of exchange, confidentiality of the data, and "weeding out after usage".
Significance
It will facilitate exchange of data between authorities under income-tax and GST. It shows that Government's intention is to not spare taxpayers from escaping tax payable under any of the laws