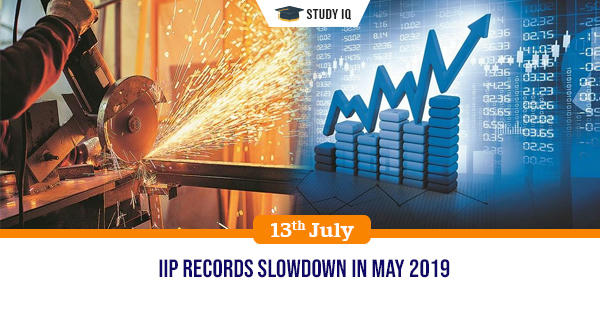 IIP records slowdown in May 2019
Date: 13 July 2019
Tags: Basics of Economics
According to data released by Central Statistics Office (CSO), factory output measured in terms of Index of Industrial Production (IIP) slowed to 3.1% in May 2019, weighed down by muted growth in mining and manufacturing sectors. It had expanded by 3.8% in May 2018. It had rose to 4.3% in April 2019 after a sharp decline of 0.4% in March 2019.
Breakaway of May 2019 IIP
Mining and quarrying sector:

It was one of only major sectors that saw growth accelerating, from contraction of 0.39% in December 2018 to growth of 3.9% in January. 2019.

Manufacturing sector:

It eased to 2.5

%

.

Electricity sector:

It saw growth slowing to 0.8% from 4.45% over the same period

Capital goods sector:

It slowed to 0.8

%

against 2.5

%

growth in April 2019.

Primary goods

: It slowed to 2.5

%

in May against 5.2%in April 2019.

Consumer sector:

Production of consumer durables contracted 0.1

%

in May 2019 against healthy 2.4

%

growth in April 2019. Production of consumer non-durables grew to 7.7

%

in the same period against a 5.2

%

growth in April 2019.
About Index of Industrial Production (IIP)
It is composite indicator that measures short-term changes in volume of production of basket of industrial products during given period with respect to chosen base period.

It is released on monthly basis by Central Statistical Organization (CSO), Ministry of Statistics and Programme Implementation (MoSPI). Base year is 2011-12.

It comprises 407 individual items and sector wise, these items fall into three categories-Manufacturing (405 items), Mining (1 items) & Electricity (1 item).

The separate weightages of the three sectors are 77.63%, 14.37%, 7.9% respectively. In IIP, combined weightages of eight core Industries is 40.27%.

In use wise composition, these 407 individual items are divided into capital goods, basic goods, intermediate goods and consumer goods.

Further, consumer goods are divided into consumer durables and consumer non-durables. In it, maximum weight is of basic goods, followed by Consumer Goods, followed by Intermediate and Capital Goods.