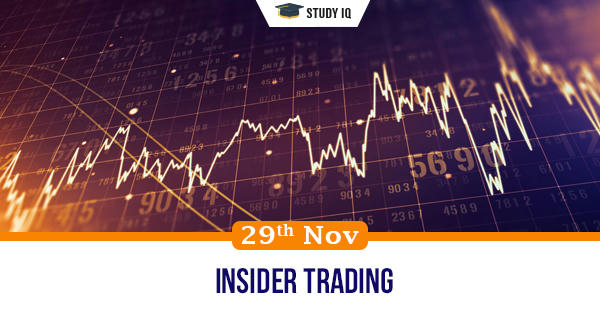 Insider trading
Date: 29 November 2020
Tags: Miscellaneous
Issue
The Securities and Exchange Board of India has barred NDTV promoters from the securities market for insider trading.

Details
Sebi noted that promoters together made a gain of Rs 16.97 crore while indulging in insider trading in the shares of New Delhi Television Ltd (NDTV) while in possession of UPSI relating to the proposed reorganization of the company.

The directions follow a probe conducted by the markets regulator between September 2006 and June 2008 wherein various violations of insider trading regulations were found.

They have been restrained from accessing the securities market for two years and directed to disgorge illegal gains along with 6 percent interest per annum.
Insider trading
Insider trading involves trading in a public company's stock by someone who has non-public, material information about that stock for any reason.

Insider trading can be either illegal or legal depending on when the insider makes the trade.

It is illegal when the material information is still non-public, and this sort of insider trading comes with harsh consequences.

The Securities and Exchange Commission has rules to protect investments from the effects of insider trading.
UPSI
Unpublished Price Sensitive Information (UPSI) means any information which relates to the internal matter of a company and is not disclosed by the company in the regular course of business.

If such information is leaked, it affects the price of securities of the company in the stock market.
SEBI
Securities and Exchange Board of India (SEBI) is the prime regulator of Stocks and Securities in the Indian Financial Market.

The main functions of SEBI include:

Development of Market

Protection of Investors

Proper Regulation of Securities Markets