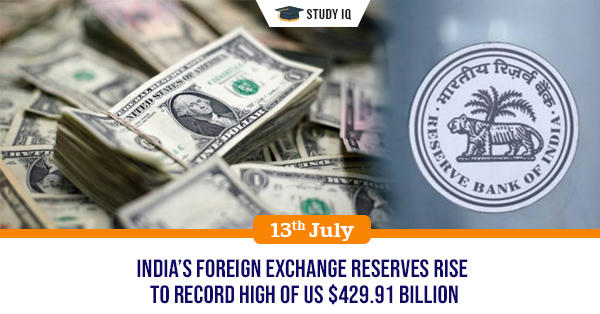 India's foreign exchange reserves rise to record high of US $429.91 billion
Date: 13 July 2019
Tags: Basics of Economics
According to recently released Reserve Bank of India (RBI) data, India's foreign exchange (forex) reserves rose by US$ 2.23 billion to reach record high US$ 429.91 billion in week ended 05 July 2019. The rise was on account of rise in value of gold and currency assets
Breakaway of forex reserves (in the reporting week)
Foreign currency assets:

It is major component of the overall reserves. It increased by US $906.8 million to US $400.809 billion,

Gold reserves:

It increased by US $1.345 billion, taking total to US $24.304 billion.

Special drawing rights (SDRs) with International Monetary Fund:

It came down by US $4.7 million to US $1.451 billion.

Reserve position with IMF:

It also dipped by US $15.3 million to US $3.346 billion.
Forex Reserve
They are reserve assets held by central bank of the country in foreign currencies. These reserve acts as buffer to be used in challenging times. They are also used as back liabilities and also to influence monetary policy. Almost all countries in world, regardless of size of their economy, hold significant forex reserves.
Components of India's FOREX Reserves: Foreign currency assets (FCAs), Special Drawing Rights (SDRs), Gold Reserves and RBI's Reserve position with International Monetary Fund (IMF). FCAs constitute largest component of India's forex Reserves. It is expressed in dollar terms and includes effect of appreciation/depreciation of non-US units like the euro, pound and the yen held in the reserves.