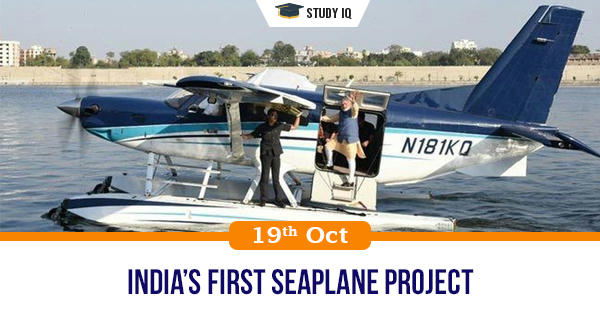 India's first seaplane project
Date: 19 October 2020
Tags: Infrastructure
Issue
The first of the five seaplane services in Gujarat, connecting Sabarmati River in Ahmedabad to the Statue of Unity in Kevadia in Narmada district, will be inaugurated on October 31.
Background
A seaplane is a fixed-winged aeroplane designed for taking off and landing on water. The first seaplane project of the country is part of a directive of the Union Ministry of Civil Aviation.
Details
The other spots are Dharoi dam in Mehsana district, to connect Ambaji and Shatrunjay dam in Palitana of Bhavnagar district as well as Tapi in the next phase.

The Airports Authority of India (AAI) requested state governments of Gujarat, Assam, Andhra Pradesh, and Telangana and the administration of Andaman & Nicobar to propose potential locations for setting up water aerodromes to boost the tourism sector.

Seaplanes offer the public the speed of an aeroplane with the utility of a boat. There are two main types of seaplane: flying boats (often called hull seaplanes) and floatplanes.

The bottom of a flying boat's fuselage is its main landing gear. This is usually supplemented with smaller floats near the wingtips, called wing or tip floats.

The hull of a flying boat holds the crew, passengers, and cargo; it has many features in common with the hull of a ship or a boat.

In Kevadia, the proposed Terminal will be spread over 0.51 acres in the premises of the Sardar Sarovar Narmada Nigam Ltd., located in the Panchmuli lake of the Sardar Sarovar Dam at Limdi village.

A seaplane does not require any construction of a runway but rubber buoys have been lined up to indicate the landing path for the seaplane.

Seaplanes by multiple airline carriers are operational in countries like the Philippines, Canada, Australia, the United States, Finland, the United Kingdom, Sri Lanka, Fiji, New Zealand, Papua New Guinea, United Arab Emirates, Italy, Maldives, and Hong Kong.