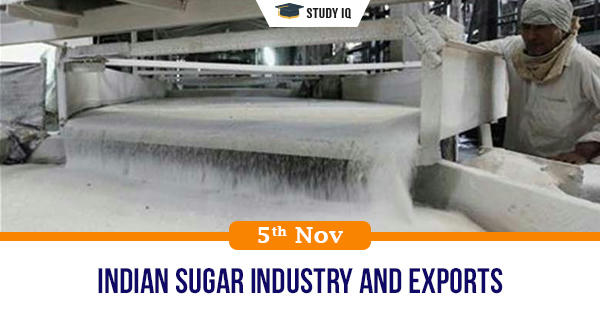 Indian sugar industry and exports
Date: 05 November 2020
Tags: Miscellaneous
Issue
The sugar industry has reacted adversely to Union Commerce and Industry Minister's announcement that the central government is not considering an extension of its export subsidy for the 2020-21 sugar season.
Background
Mills are promised a transport subsidy of Rs 10.448 per kg of sugar exported. This subsidy had helped mills bridge the difference between production costs and international prices.
Details
The record export level last season was possible only because of the subsidy programme offered by the central government.

Other than the traditional markets of Bangladesh, Malayasia, and Sri Lanka, Indian mills have also shipped their produce to newer countries like Iran, China, South Korea, and Somalia.

Delay in India's export subsidy scheme has made sugar prices increase, and the benefit is largely being drawn by Brazil, which is the largest sugar manufacturer of the world.

Brazil, which uses 38% of its sugarcane for producing sugar has increased it to 45% due to excessive demand and low ethanol production.

The reduction in prices of crude oil has resulted in low demand for ethanol. This has forced farmers to adopt different approach to sugar production.

The central government has announced a Rs 1-3 per litre rise in the procurement price of ethanol. This is the second signal given by the government to mills to divert cane towards production of ethanol rather than sugar.

The industry has estimated that this year, nearly 20 lakh tonne of sugar will be diverted towards producing ethanol. Last year, the central government had announced an interest subvention scheme for mills to augment production of ethanol.