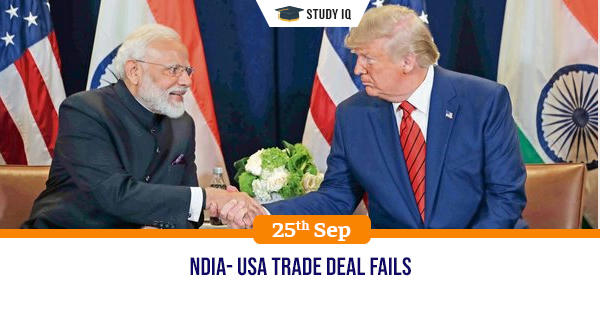 India- USA trade deal fails
Date: 25 September 2019
Tags: Miscellaneous
Issue
The India-US limited trade agreement that was intended to be signed to prevent on going escalations in tariff war has failed to get through.
Background
The announcement of an agreement was expected to coincide with bilateral meeting between Prime Minister Narendra Modi and President Donald Trump. Trump had announced that a bigger trade deal would be coming into place soon.
Details
Sources have cliamed that the prospects of an agreement faltered due to the failure to reach an agreement on Information and communications technology (ICT) products.

The U.S. has wanted India to eliminate tariffs (20%) on ICT products, but India is concerned that this could open up the market to flooding by Chinese technology.

The U.S. wanted greater access to Indian markets for medical devices, such as stents and knee implants, ICT and dairy products and sought the removal of price caps.

India wanted the reinstatement of preferential market access to U.S. markets under the Generalized System of Preferences (GSP) program, which was revoked in early June.

It had also wanted facilitation of processes in agricultural product markets where it already had access such as easier certification of food product irradiation facilities and greater access in some agricultural markets like table grapes, pomegranates for instance.
Other Issues
Some of the larger issues for the U.S. include digital trade like for instance regulations around data localization and FDI in e-commerce.

India also continued to appear on U.S.'s "Priority Watch List" this year along with 10 other countries.

The annual list identifies countries which, according to the U.S., pose challenges to American intellectual property rights.