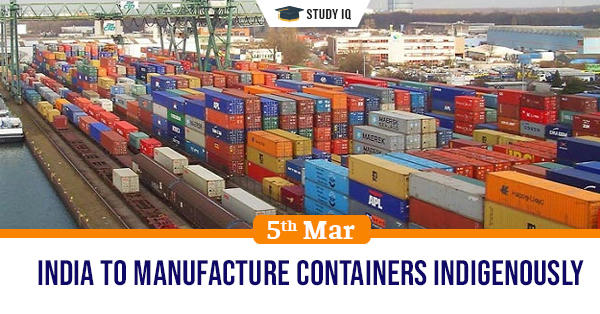 India to manufacture containers indigenously
Date: 05 March 2021
Tags: Miscellaneous
Issue
India has started the process of manufacturing cargo containers indigenously through two state-owned heavy-engineering companies.
Background
India has presently no capability to manufacture its own cargo containers. They are all manufactured by foreign players, especially Chinese.
Details
Braithwaite and Bharat Heavy Electricals Limited have received orders from Container Corporation of India (CONCOR), the largest stake-holder in container movements market.

China is the global leader in cargo containers and regularly obtains global tenders to manufacture and supply containers across the world.

PSUs such as Braithwaite are focusing on creating the first prototype as there is no required component manufacturing in India.

Critical components such as corner casting and structural components like channels have not been manufactured before. It requires special designing.

Government orders of less than Rs 200 crore cannot be given global tender. India will have to be become self-reliant sometime in future.

Each container costs around Rs 2.5 lakh. The PSUs needed a big order so that the development process is profitable across the chain.

Containers are moved on road by trucks and also on rail. Rail journey costs less, reducing the cost of logistics.

The prototype has to be tested and certified by suitable agencies before they can be inducted and manufactured on large scale.