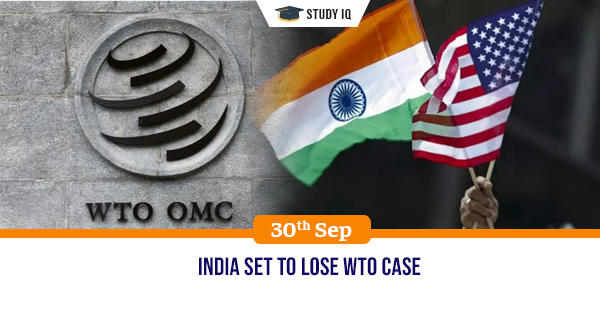 India set to lose WTO case
Date: 30 September 2019
Tags: Miscellaneous
Issue
A WTO dispute settlement panel has upheld a US complaint that export subsidy programmes provided by the Indian government violated provisions of the trade body's subsidies and countervailing measures (SCM) pact.
Background
In 2018, the US complained that India's export-related programmes violated Article 3.1(a) of WTO's SCM agreement. Under Article 3.1, developing countries with gross per capita of $1,000 per annum are not entitled to provide export subsidies that are contingent upon export performance.
Details
The three-member dispute settlement panel has struck down Indian export promotion schemes on the grounds that India is not entitled to provide such subsidies because its per capita gross national product (GNP) has crossed $1,000 per annum.

India will have a month to challenge the ruling before an appellate body, the highest court for global trade disputes. If the appellate body upholds the panel's ruling, India will be required to discontinue the existing export promotion schemes.

Ruling comes at an opportune time for US, which is piling pressure on New Delhi to open the Indian market for medical products, particularly heart stents and knee implants, dairy items and other products, as part of an interim trade deal.

India had announced it would discontinue export subsidies soon. Despite these pronouncements, the government has continued with export subsidies.
Implications
The programmes that could be affected are export-oriented units scheme, electronics hardware technology parks scheme, bio-technology parks scheme, merchandise exports from India scheme, export promotion capital goods scheme, special economic zones and duty-free imports for exporters.
Export subsidies
Export subsidy is a government policy to encourage export of goods and discourage sale of goods on the domestic market through direct payments, low-cost loans, tax relief for exporters, or government-financed international advertising.

An export subsidy reduces the price paid by foreign importers, which means domestic consumers pay more than foreign consumers.

The World Trade Organization (WTO) prohibits most subsidies directly linked to the volume of exports, except for LDCs.