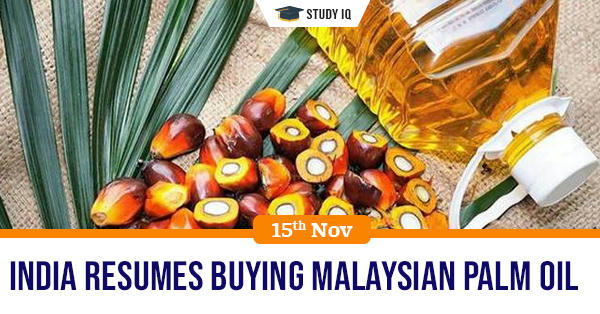 India resumes buying Malaysian palm oil
Date: 15 November 2019
Tags: Miscellaneous
Issue
Refiners in India have resumed buying Malaysian palm oil after a gap of nearly a month as Kuala Lumpur has been offering a $5 per tonne discount over supplies from rival Indonesia.
Background
Indian refiners stopped purchases from Malaysia last month fearing India could raise import taxes or enforce other measures to curb imports after Kuala Lumpur criticised India for its actions in Kashmir.
Details
The resumption in purchases by India, the biggest buyer of Malaysian palm oil this year, could support Malaysian palm oil prices.

India's top vegetable oil trade body had told members to stop buying palm oil from Malaysia in a call aimed at helping New Delhi punish the country for criticising India over its policy towards Kashmir.

Indonesia is the world's biggest producer of palm oil, followed by Malaysia.

Palm oil accounts for nearly two-thirds of India's total edible oil imports. India buys more than 9 million tonnes of palm oil annually, mainly from Indonesia and Malaysia.

India, the world's biggest importer of edible oils, also buys soya oil from Argentina and Brazil, and sunflower oil from Ukraine.
Other Major imports by India
India gets its crude oil from the Middle-East, especially Saudi Arabia and Iraq.
Precious stones are imported particularly from African countries.
More than half of the shipments of electronics come from China.
Industrial machines, engines, pumps are imported mainly from Japan and China.
Fertilizers are imported particularly from USA and Europe.
Most of the imported plastics come from western countries.
Malaysia and Indonesia are major exporters to India.
Japan, China and South Korea export Iron and steel products to India.