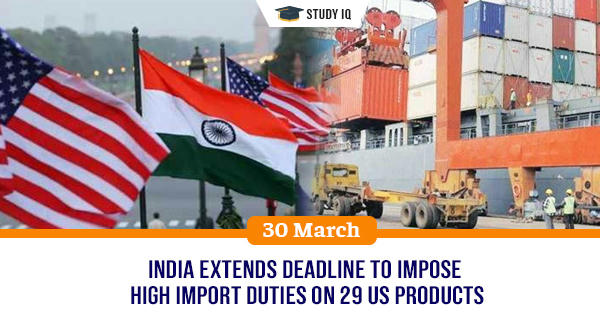 India extends deadline to impose high import duties on 29 US Products
Date: 30 March 2019
Tags: External Sector
Union Government has again extended deadline for imposition of higher import (custom) duties on 29 products from United States including almond, walnut and pulses till May 2019. This extension comes on the recommendation of Department of Commerce as it is considering sending a delegation to the US to resolve bilateral trade issues.
Background
These higher tariffs were supposed to be effective April 1, 2019. They have been already delayed multiple times ever since being announced in June 2018 as both countries are negotiating trade package.

These higher tit for tat tariffs were announced in in retaliation to March 2018 decision of US President Donald Trump to impose heavy tariffs on imported steel and aluminium items.

However, talks on trade package between both countries has fell through with US scrapping preferential treatment to Indian exports under Generalised System of Preferences (GSP) scheme in March 2019.
Two-track discussions
Both countries are holding two-track discussions to increase trade in the short and medium term and identify long-term trade potentials.

India is pressing for exemption from high duty imposed by US on certain steel and aluminium products, resumption of export benefits to certain domestic products under their GSP programme, greater market access for its products from agriculture, engineering sectors, automobile and automobile components.

On the other hand, US is demanding greater market access through cut in import duties for its agriculture and dairy products, medical devices, IT and communication items. India however has stated that it will be difficult for them to cut duties on IT products.