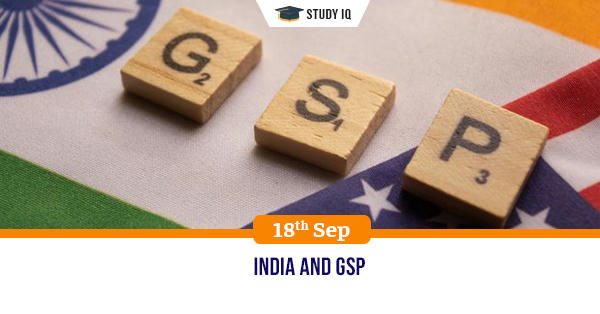 India and GSP
Date: 18 September 2019
Tags: Miscellaneous
Issue
A group of 44 influential lawmakers has urged the Trump administration to reinstate India's designation as a beneficiary developing nation under the key GSP trade programme as part of a potential trade deal between the two countries.
Background
The Trump administration had terminated India's designation as a beneficiary developing nation under the Generalized System of Preferences (GSP), which had reduced India's exports to the US significantly. India was the largest beneficiary of the programme in 2017 with USD 5.7 billion in imports to the US given duty-free status .
Details
American businesses and workers have suffered most from GSP termination to date instead of the foreign beneficial country it is alleged.

Despite facing higher tariffs due to lost GSP, imports from India of (previously) GSP-eligible products increased over 40 per cent in June/July 2019 compared to a year earlier. This may be the result of companies shifting sourcing away from China.

Latest data also shows that loss of GSP for India cost American companies about USD 30 million in July.
GSP
The GSP is the largest and oldest US trade preference programme and is designed to promote economic development by allowing duty-free entry for thousands of products from designated beneficiary countries.

Under the GSP programme, nearly 2,000 products including auto components and textile materials can enter the US duty-free if the beneficiary developing countries meet the eligibility criteria established by Congress.