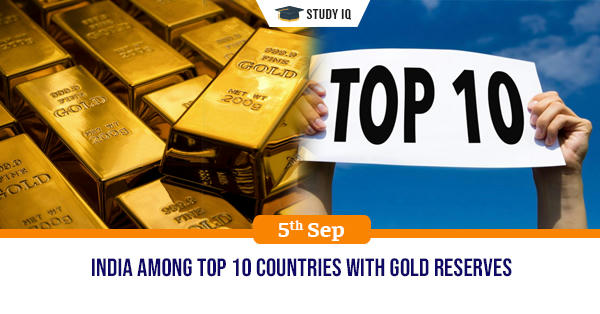 India among top 10 countries with Gold reserves
Date: 05 September 2019
Tags: Miscellaneous
Issue
India has overtaken the Netherlands to move into the list of top ten countries in terms of total gold reserves.
According to the World Gold Council, India has gold reserves totalling 618.2 tonnes, which is marginally higher than the Netherlands' reserves of 612.5 tonnes.
Background
India's gold reserves have grown substantially in the past couple of decades from 357.8 tonnes in the first quarter of 2000 to the current 618.2 tonnes.

Demand is concentrated among emerging market central banks with diversification being the key driver in the face of ongoing geopolitical and economic uncertainty.
Details
According to the latest release by the World Gold Council, U.S. leads the country list with total gold reserves of 8,133.5 tonnes followed by Germany with 3,366.8 tonnes.

While the IMF is ranked third with a holding of 2,451.8 tonnes, it is followed by countries such as Italy (2,451.8 tonnes), France (2,436.1 tonnes), Russia (2,219.2 tonnes), China (1,936.5 tonnes), Switzerland (1,040 tonnes) and Japan (765.2 tonnes) before India at the 10th spot.
Significance
Most central banks are raising their gold holdings as the dollar is strengthening, as they feel the need to diversify their reserves.
Gold is seen as a better hedge against the dollar than any other currency.