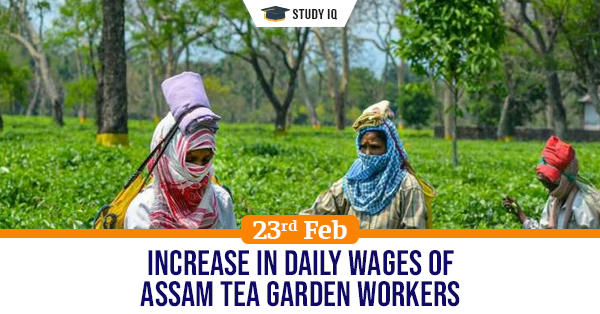 Increase in daily wages of Assam tea garden workers
Date: 23 February 2021
Tags: Miscellaneous
Issue
The Assam government has increased the wages of tea garden workers from Rs 167 to Rs 217. This comes after a long standing demand.
Details
The announcement is important because the tea tribe community which comprises 17% of the state's population is a deciding factor in almost 40 Assam Assembly seats out of the 126.

The community is spread over in 800 tea gardens plus several unorganised small gardens of Assam. It is marked by exploitation, economic backwardness, poor health conditions, and low literacy rates.
Importance of announcement
Increasing wages of tea garden workers has been a major demand of the community and a poll plank as well. Although the tea garden managements pay the wages, the government fixes it.

In 2017, the Assam government formed an advisory board to fix minimum wages of tea workers — the board recommended an amount of Rs 351.

The next year, as an interim measure, the Assam government hiked daily wages from Rs 137 to Rs 167.

The electorally important community has been the focus of several welfare schemes launched by the Sarbananda Sonowal government.

In the Union Budget presented by Finance Minister Nirmala Sitharaman on February 1, Rs 1,000 crore was announced for the welfare of tea workers in Assam and West Bengal.
Tea tribe communities
Tea-garden community are multi ethnic groups of tea garden workers and their dependents in Assam. They are officially referred as "Tea-tribes" by Government of Assam.

They are the descendants of indigenous people brought by the British colonial planters as indentured labourers from different regions.

They include Jharkhand, Odisha, Chhattisgarh, West Bengal, and Andhra Pradesh into colonial Assam during 1860-90s in multiple phases for the purpose of being employed in the tea gardens industry as labourers.

They are not a single ethnic group but consist of different ethnic group speaking dozens of languages and have different set of cultures.