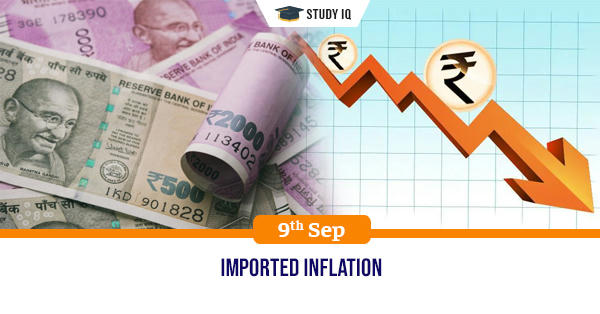 Imported inflation
Date: 09 September 2019
Tags: Basics of Economics
Issue
The Indian rupee breached the 72-a-dollar mark last week, due to weak local and global economic indicators. The weakening of the domestic currency in the past two months has renewed concerns of a return of imported inflation.
Imported Inflation
When the general price level rises in a country due to the rise in prices of imported commodities like petroleum, gold , fertilisers etc , inflation is termed imported. Inflation may also rise due to depreciation of the domestic currency, which pushes up the rupee cost of imported items.
Largest contributors to Indian imports
Petroleum and related products

Precious stones

Organic chemicals

Vegetable oil

Plastics
Details
India is a net importer on economic front. If the rupee depreciation is sustained, there will be an impact on inflation.

Imported inflation has sustained mainly through the fuel component. Any sustained increase in oil prices past the $65-per-barrel mark can be a concern. The price of gold, another key contributor to India's imports, is hovering at $1540 an ounce.This can be a concern too.

The rupee is among the worst performing Asian currencies and has depreciated around 2.72% this year. Analysts believe that rupee to be range-bound around 71-73 per dollar in the near term. This could elevate the problem of inflation.
Way ahead
The experts are have not pressed the panic button on imported inflation yet but a fragile global economy and trade tensions require a close watch on this indicator.

India's Current Account Deficit is below 2% and hence India's external position is expected to remain manageable.