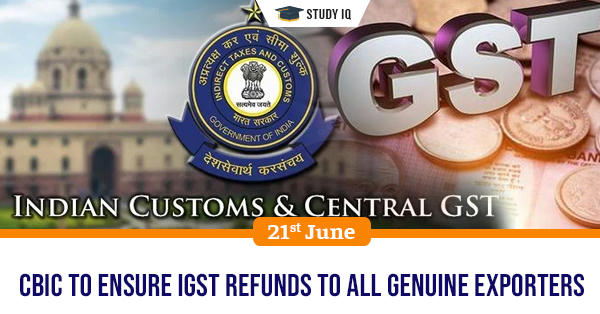 CBIC to ensure IGST refunds to all genuine exporters
Date: 21 June 2019
Tags: Public Finance
Union Ministry of Finance has assured all genuine exporters that they will continue to get their Integrated Goods and Service Tax (IGST) refunds in timely manner in a fully automated environment. Central Board of Indirect Taxes and Customs (CBIC) has notified that introduction of manual checks in Integrated GST (IGST) refunds is aimed at preventing unscrupulous exporters from defrauding the exchequer.
CBIC's clarification
It comes in view of media reports which have highlighted perceived setback to automated process of refunds for exporters under GST on account of introduction of manual checks in IGST refunds. It has termed these reports as misleading.
It also clarified that manual checks for IGST returns will apply only for 'risky' exporters suspected of indulging in large-scale frauds relating to IGST refunds. These risky exporters account for only 3.5% of the total number of exporters.
About Integrated Goods and Services Tax (IGST)
It is one of the three categories under Goods and Service Tax (Central GST, Intergrated GST and State GST) with concept of one tax one nation. It provisions falls under Integrated Goods and Service Tax (IGSGT) Act 2016. It is charged when movement of goods and services from one state to another. The revenue out of IGST is shared by state government and central government as per rates fixed by GST Council.
Under curret IGST scheme, 50% of the collections will go to Centre (as CGST component) and remaining 50% will be allocated to States/Union Territories (as SGST component). And, 42% of the CGST will be devolved to States/UTs.
Constitutional Provision (Article 269A of Constitution): It empowers Central Government to levy and collect GST on supplies in the course of interState trade. Such GST levied on interstate trade shall be apportioned between Union and States according to provisions of law enacted by Parliament on recommendations of GST Council.