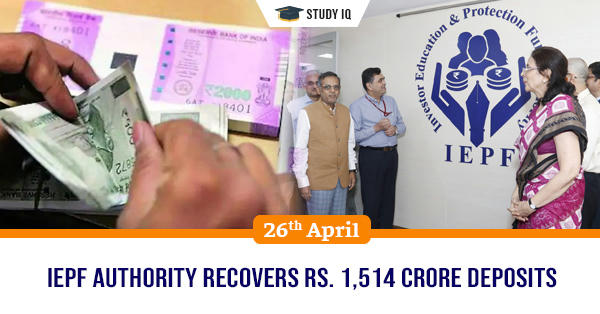 IEPF Authority recovers Rs. 1,514 crore deposits
Date: 26 April 2019
Tags: Economic Organizations
Investor Education and Protection Fund (IEPF) Authority has recovered deposits worth Rs. 1,514 crore from Kolkata-based Peerless General Finance and Investment Company.
This money of depositors was pending with company for last 15 years. It was taken by issuing 1.49 crore deposit certificates to over one crore individual investors.
IEPF Authority recovered depositors amount and credited to IEPF Fund/account. This was done in compliance with Section 125 (2) (a) of Companies Act, 2013 which says that matured deposits with companies remaining unclaimed for period of 7 years from date it became due for payment shall be credited to IEPF Fund/account.
About Investor Education and Protection Fund (IEPF) Authority
It is statutory body under the Ministry of Corporate Affairs established under Section 125 of Companies Act 2013. Secretary in Ministry of Corporate Affairs is the Chairperson of IEPF.

Mandate:

To administer Investor Education and Protection Fund with the objective of promoting investor's education, awareness and protection of their interests.

Powers:

It is empowered to undertake various initiatives to fulfil its mandate through investor awareness programmes and various other mediums like print, electronic, social media and dommunity Radio.

IEPF Fund:

Unclaimed dividend, refund of application money, matured company deposits and debentures and interest on them are moved to this fund if not claimed within seven years.

It

is monitored by a trust, which decides how money will be utilised for specific activities of investor awareness and education.

Once unclaimed amount is credited to this fund, investor cannot recover unclaimed amount.

Investors can claim unpaid amounts from company before they are credited to IEPF account by following the procedure prescribed by the company.