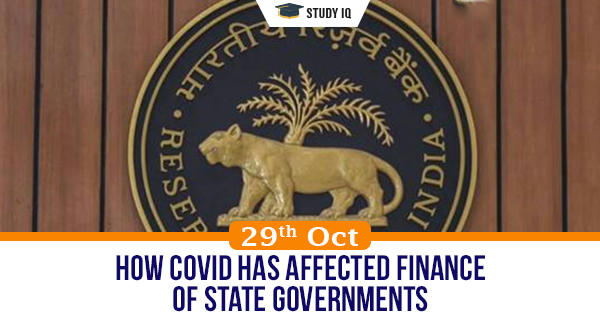 How Covid has affected finance of state governments
Date: 29 October 2020
Tags: Miscellaneous
Issue
The Reserve Bank of India's study on state governments' finances indicates that gross fiscal deficits (GFDs) of state governments are set to double in 2020-21.
Details
In 2020-21, about half the states have budgeted the GFD-to-GSDP (gross state domestic product) ratio at or above the 3% threshold, although most of these budgets were presented prior to the onset of Covid-19.

The direction of possible revision is evident from the fact that the average for states presenting their budget before the outbreak of the pandemic is 2.4% of GSDP, while it is 4.6% for the remaining states that made their budget presentations after the outbreak.

Thus, states are grappling with the pandemic with constrained fiscal space. In terms of primary balances, most states are incurring primary deficits in 2019-20, as against primary surpluses at the onset of the global financial crisis.

The crisis literature focuses on the operation of 'scissor effects' — loss of revenues due to demand slowdown, coupled with higher expenditure associated with the pandemic.

The duration of stress on state finances will likely be contingent upon factors such as the lockdown tenure and the risk of new waves of infection, all of which make traditional backward-looking tax buoyancy forecasting models unreliable.

Pandemic-related spending, particularly on health and other support measures, are likely to keep these expenditures high, prolonging the 'scissor effects'.

State governments may have to face the tough choice of putting investment projects on hold, but, given the multiplier associated with capital spending, this will inevitably entail growth losses in a vicious cycle.

The recovery pattern is similar — a sharp rebound in the immediate subsequent year because of favourable base effects, followed by contraction again, and the GDP growth rate finally returning to pre-pandemic levels in 3-4 years.