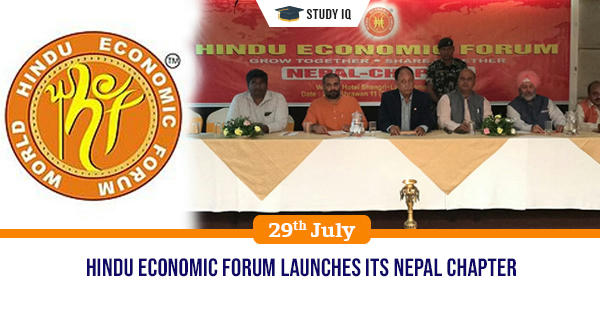 Hindu Economic Forum launches its Nepal Chapter
Date: 29 July 2019
Tags: Economic Organizations
World Hindu Economic Forum (HEF) has launched its Nepal Chapter in Kathmandu. The objective of Nepal chapter of HED is (i) to increase economic cooperation between India and Nepal..(ii) To connect Himalayan nation with a global network for its economic prosperity.
About World Hindu Economic Forum (HEF)
It was founded by Swami Vigyananand. It brings together financially successful elements within Hindu society (such as technocrats, industrialists, investors, bankers, business persons, professionals, economists, thinkers among others) to share their business knowledge, expertise and resources with their fellow brethren to trigger creation of surplus wealth and make society prosperous. It is headquatered in Gurgaon, Haryana. It is not a membership organization, but Business organizations, chambers, and associations can affiliate with WHEF. It was started with first forum meeting in Hong Kong in 2012.
Objective: It wants Hindus to cooperate and collaborate globally so that market access and appropriately priced capital is facilitated among them. Its philosophy is based on Dharmasya Moolam Arthah (Economy is the strength) enshrined in Kautilya's Arthashastra.
Main activities of WHEF: (i) Provide a platform to promote business and facilitate networking (ii) Knowledge/Information sharing related to Business and Economy (iii) Providing expert connectivity (iv) Access to data base of PEs (Private Equity), VCs (Venture Capital), Investors etc. (v) Organising economic conferences across the world and (vi) Local chapter activities for regular interactions.