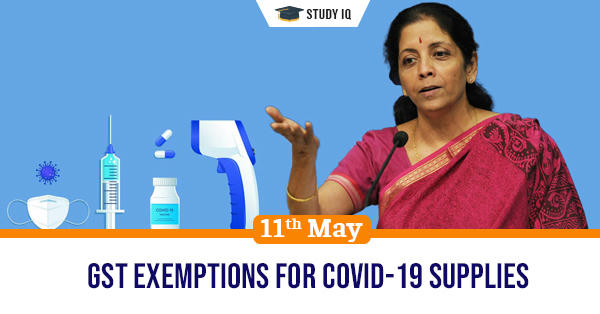 GST exemptions for Covid-19 supplies
Date: 11 May 2021
Tags: Miscellaneous
Issue
Finance minister Nirmala Sitharaman has said that giving GST exemptions on essential Covid-19 items would make them costlier.
Background
The finance minister was responding to the request made by several state governments and also courts regarding GST exemptions to essential products.
Details
Covid vaccines from abroad as well as produced domestically attract 5 percent tax on GST. The tax rate on oxygen concentrators and drugs stand at 12 percent.

The argument is that, as GST exemptions are given on drugs and essential medical products, producers will not be able to negate the taxes paid on inputs.

They will be forced to offset the prices by charging higher cost on customers. It is said that a nominal tax of 5 percent will benefit both producers and consumers.
Sharing of the taxes
The IGST tax on products is shared 50-50 by centre and state. In addition, the centre pays the state a share of its collection as devolution.

The centre has exempted IGST taxes on relief material imported by relief organisations such as Red Cross.

The government has also removed customs duty and health cess on the commercial imports of important medical drugs and products.