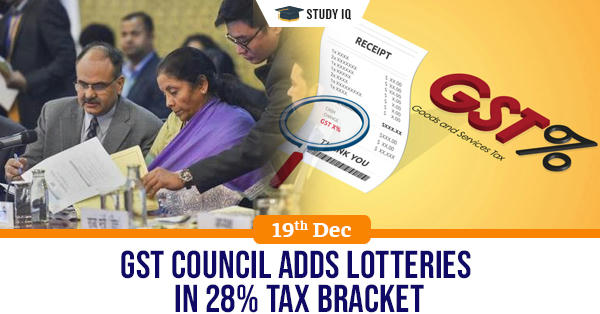 GST council adds lotteries in 28% tax bracket
Date: 19 December 2019
Tags: Miscellaneous
Issue
The GST council has voted for inclusion of lotteries in 28% tax bracket under the GST regime during a meeting.
Background
There have been widespread concerns about the shortfall in tax revenue at a time of economic slowdown and lower consumption. In the first eight months of this financial year, only about 50% of GST collection targets and 60% of compensation cess collection targets have been achieved.
Details
With regard to lotteries, there is a dual rate regime at present, with state-run lotteries taxed at 12%, while state-authorised lotteries (run by private players) face a 28% tax rate.
Other decisons
The Council decided to waive the late fee for GSTR-1 taxpayers who have not filed returns from July 2017 to November 2019 if all the returns are filed by January 10, 2020.

The Council has decided that all entities with 20% ownership by central or state governments will be exempt from GST payable for long-term land leases from January 1, 2020.
GST council
GST Council is the governing body of GST having 33 members, out of which 2 members are of centre and 31 members are from 29 state and 3 Union territories with legislation.

The council is headed by the union finance minister Nirmala Sitharaman assisted with the finance minister of all the states of India.

The GST council is responsible for any revision or enactment of rule or any rate changes of the goods and services in India.

The council contains the following members (a) Union Finance Minister (as chairperson) (b) Union Minister of States in charge of revenue or finance (as member) (c) the ministers of states in charge of finance or taxation or other ministers as nominated by each states government (as member).

GST Council is an apex member committee to modify, reconcile or to procure any law or regulation based on the context of goods and services tax in India.