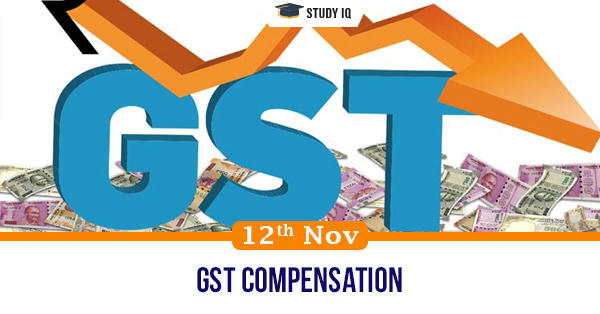 GST compensation
Date: 12 November 2020
Tags: Miscellaneous
Issue
Rajasthan became the latest Opposition-ruled state to opt for a special borrowing window for meeting its compensation shortfall under Goods and Services Tax (GST).
Background
States like Punjab, Kerala, Jharkhand, Chhattisgarh and Bengal are yet to join any of the borrowing options floated by the central government to resolve the issue of compensation deficit in the current financial year.
Details
The Finance Ministry had said that the Centre would borrow from the market and then act as an intermediary to arrange back-to-back loans to pay the GST compensation shortfall of Rs 1.1 lakh crore to state governments.

This arrangement will not reflect in the fiscal deficit of the Centre, and will appear as capital receipts for state governments.

The total GST revenue shortfall for the current fiscal was estimated at Rs 3 lakh crore, of which compensation cess collection was estimated at Rs 65,000 crore, leaving a compensation deficit of Rs 2.35 lakh crore.

Under the special window, the Centre has already borrowed Rs 12,000 crore in two equal instalments and passed it on to 21 states and three Union Territories on October 23 and November 2.

The second round of borrowing was done at an interest of 4.42%, and the first round at 5.19%, lower than the cost of borrowing for states.

It remains to be seen how this issue will be resolved for the next fiscal, given that tax revenues are expected to grow at a lower rate than the 14% growth guaranteed to states under the compensation mechanism of GST.
GST compensation
The Constitution (One Hundred and First Amendment) Act, 2016, was the law which created the mechanism for levying a nationwide GST.

There was also a provision to compensate the States for loss of revenue arising out of implementation of the GST.

It was agreed that revenue shortfalls arising from the transition to the new indirect taxes regime would be made good from a pooled GST Compensation Fund for a period of five years that is set to end in 2022.

This corpus in turn is funded through a compensation cess that is levied on so-called 'demerit' goods.

The computation of the shortfall is done annually by projecting a revenue assumption based on 14% compounded growth from the base year's (2015-2016) revenue and calculating the difference between that figure and the actual GST collections in that year.