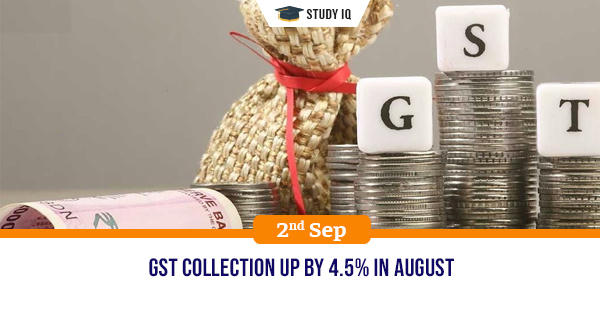 GST collection up by 4.5% in August
Date: 02 September 2019
Tags: Miscellaneous
Issue
The gross GST collection in August, 2019 stood at 98,202 crore, up 4.51% compared to 93,960 crore in the same month last year
The GST collection, although higher on year-on-year basis, is still lower than government's expectations of 1 lakh crores.
Background
The GST collection is a significant part of government's revenue collection which is estimated to be around Rs 1 lakh crore every month to meet targets.
The on going slowdown has reduced the revenue amount from target of Rs 1 lakh crores to Rs 98,202 crores.
Details
The total number of summary returns in GSTR 3B forms filed in the month of July upto 31 August was 75.8 lakhs

Indirect tax collection in the month of August is generally subdued due to seasonality factor and hence may not be considered a reflection of consumption slowdown.
Effects
A lower GST mop-up is set to strain government finances and make it difficult to meet fiscal target.

The burden would increase on the Centre for compensating states for revenue shortfall. The pressure on the revenue department could also go up to meet the targets which in turn may result in coercive actions against trade and businesses.

The lower revenue is expected to hamper infrastructural and social reforms intended by the government.
Way Forward
To boost sales and initiate growth the government is expected to resort to rate cuts in some sector such as automobile and consumer goods like biscuits.

By plugging the leakages the government hopes to increase the revenue amount.
GST
Goods and Services Tax (GST) is an indirect tax (or consumption tax) imposed in India on the supply of goods and services. It is a comprehensive multistage, destination based tax. It is collected from point of consumption and not point of origin like previous taxes.