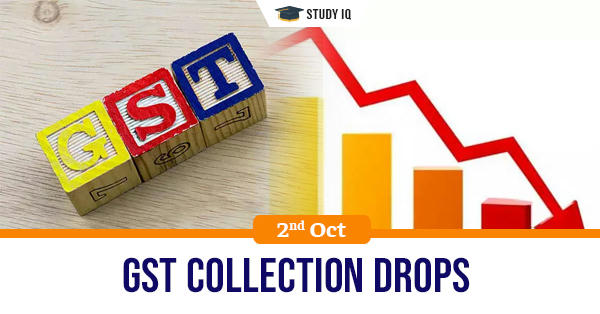 GST collection drops
Date: 02 October 2019
Tags: Miscellaneous
Issue
The revenue collected through GST has dropped for the second consecutive month in September to a 19-month low of Rs. 91,916 crore.
Background
The lower collection of GST has been attributed to lower growth in GDP numbers in the current quarter. This slowdown has impacted consumption pattern of the public and has resulted in lower revenue collection.
Details
The revenue during September 2019 is 2.67% lower than what was collected in the same month of the previous year.

During April-September, the domestic component has grown by 7.82% while the GST on imports has shown negative growth and the total collection has grown by 4.9%.

The lower collections is assumed to be low due to the lower GDP growth numbers, as GST is a transaction tax that is immediately impacted by any decline in any economic activity.

It has also been observed that drop in State GST collections has been sharper than for central GST (CGST).
GST
Goods and Services Tax is an indirect tax imposed in India on the supply of goods and services. It is a comprehensive multistage, destination based tax.

Goods and services are divided into five different tax slabs for collection of tax - 0%, 5%, 12%, 18% and 28%.

Petroleum products, alcoholic drinks, and electricity are not taxed under GST and instead are taxed separately by the individual state governments.

The single GST subsumed several taxes and levies, which included central excise duty, services tax, additional customs duty, surcharges, state-level value added tax and Octroi.

India adopted a dual GST model, meaning that taxation is administered by both the Union and state governments. Transactions made within a single state are levied with Central GST (CGST) by the Central Government and State GST (SGST) by the State governments.

For inter-state transactions and imported goods or services, an Integrated GST (IGST) is levied by the Central Government.
Reverse charge Mechanism
Reverse Charge Mechanism (RCM) is a system in GST where the receiver pays the tax on behalf of unregistered, smaller material and service suppliers.

The receiver of the goods is eligible for Input Tax Credit, while the unregistered dealer is not.
Administration
GST Council is the governing body of GST having 33 members and is chaired by the Union Finance Minister.

GST Council is an apex member committee to modify, reconcile or to procure any law or regulation based on the context of goods and services tax in India.

The council is headed by the union finance minister and assisted by the finance minister of all the states of India.