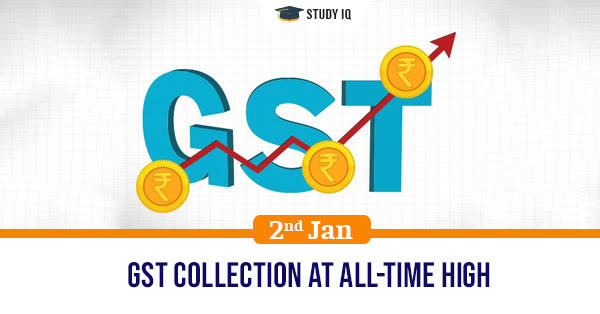 GST collection at all-time high
Date: 02 January 2021
Tags: Miscellaneous
Issue
Goods and Services Tax (GST) collections in December rose 11.6 percent year-on-year to Rs 1, 15,174 crore, the highest level since its rollout in 2017.
Details
Following the outbreak of Covid-19 pandemic, GST revenue collections had been posting a contraction and was at a lower level than the previous year.

The GST revenue collections remained in negative territory for the first five months of this financial year, with a record low collection of Rs 32,172 crore in April, following the lockdown in the country in the wake of the Covid-19 pandemic.

December marked the fourth month in which GST revenue collections have posted a year-on-year growth. The increase in percentage terms is also aided partly by a low base effect.

GST collections in December gained support from higher festive season sales on account of Diwali in November along with the rollout of new technological systems of e-invoicing and action against tax evaders.

The proposed extension of electronic invoicing to all businesses will further prevent leakages in GST revenues.
New measures to tackle evasion
Under GST laws, e-invoice for B2B transactions has been made mandatory for companies with turnover of over Rs 500 crore from October 1 last year.

It was notified to be extended to businesses with over Rs 100 crore turnover from January 1 this year and is likely to be extended for all businesses beginning April 1.

E-invoicing system is connected to a central portal that receives and validates invoices in real-time and over time will eventually replace the e-way bill system. It has been seen as a major game-changer to curb tax evasion and plug leakages.
Base effect
The base effect is the distortion in a monthly inflation figure that results from abnormally high or low levels of inflation in the year-ago month.

A base effect can make it difficult to accurately assess inflation levels over time. It diminishes over time if inflation levels are relatively constant.

The causes of base effects are varied and range from seasonal variations to changes in demand. From a technical perspective, base effect impact the overall inflation figure.