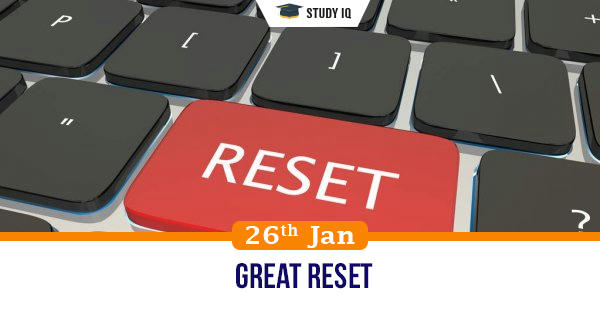 Great Reset
Date: 26 January 2021
Tags: World Economy
Issue
The World Economic Forum has been seeking to reform global capitalism in order to restore order after the devastating pandemic.
Details
The Great Reset is an initiative by the World Economic Forum. It has been conceptualised by the founder and executive chairman of the WEF, Klaus Schwab, and has evolved over the last few years.

It is based on the assessment that the world economy is in deep trouble. Schwab has argued that the situation has been made a lot worse by many factors, including the pandemic's devastating effects on global society, the un- folding technological revolution, and the consequences of climate change.

Schwab demands that the world must act jointly and swiftly to revamp all aspects of our societies and economies, from education to social contracts and working conditions.

Every country, from the United States to China, must participate, and every industry, from oil and gas to tech, must be transformed. In short, we need a 'Great Reset' of capitalism.
Agenda of great reset
First is the question of reforming capitalism. Introduction of "stakeholder capitalism" that looks beyond the traditional corporate focus on maximising profit for shareholders.

Second is certainly right to focus on the deepening climate crisis, through policies such as Paris Climate Summit.

Third is the growing difficulty of global cooperation that has to be promoted. The contestation is not just political but increasingly economic and technological.
Issues with great reset
The right sees the WEF arguments about restructuring the global economy as a dangerous attempt to impose 'socialism' and dismantle the traditional society.

The left points to the complicity of the Davos forum in promoting policies that have brought the world to the current impasse and question its capacity to produce solutions.
World Economic Forum
The World Economic Forum (WEF) is an international NGO, founded on 24 January 1971. The WEF's mission is stated as "committed to improving the state of the world by engaging business, political, academic, and other leaders of society to shape global, regional, and industry agendas".

The WEF hosts an annual meeting at the end of January in Davos, a mountain resort in Graubünden, in the eastern Alps region of Switzerland.

The meeting brings together some 3,000 business leaders, international political leaders, economists, celebrities, and journalists for up to five days to discuss global issues, across 500 sessions.