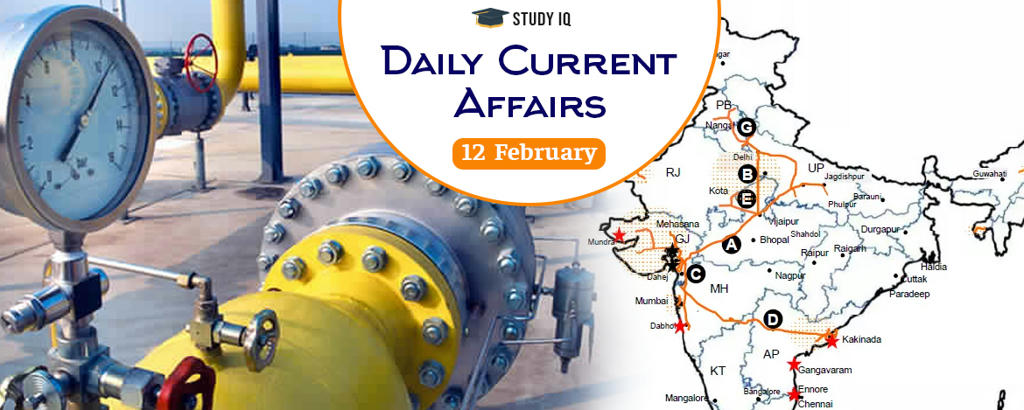 Government to develop National Gas Grid
Date: 12 February 2019
Tags: Miscellaneous
Union Ministry of Petroleum & Natural Gas has envisaged to develop and expand National Gas Grid, by further adding 14,239 km of gas pipeline to country's existing 16,788 km network. At present about 16,788 Km natural gas pipeline is operational and about 14,239 Km gas pipelines are being developed to increase availability of natural gas across the country.
Background
At present share of natural gas in India's energy mix is just over 6%. Government has set aim to increase its share to 15% for mowing towards gas based economy, while world average is 24%.

For this, Government is envisaging National Gas Grid focused to increase availability of cleaner cooking fuel such as PNG and transportation fuel (CNG) to all citizens of the country.
National Gas Grid
Objectives
Remove regional gas and green fuel access imbalances within the country with regard to access to natural gas

Connect gas sources to major demand centres and ensure assured availability of gas to consumers in various sectors.

Develop City Gas Distribution (CGD) Networks in cities to supply compressed natural gas (CNG) and piped natural gas (PNG).
Implementing Authority
Petroleum and Natural Gas Regulatory Board (PNGRB) is nodal authority to authorize to grant authorization to entities for development of CGD network in Geographical Areas (GAs) as per PNGRB Act, 2006

It identifies GAs for authorizing development of CGD network in synchronization with the development of natural gas pipeline connectivity and natural gas availability.

After completion of 9th CGD Bidding Round, CGD network will be accessible in 178 GAs covering approximately 280 districts spread over 26 States/UTs.
Benefits
Its expansion will benefit industrial and commercial units by ensuring uninterrupted supply of natural gas. It will also expand potential coverage of gas pipeline network to about 50% of country's population, spreading over 35% of area.

It will provide better infrastructure for automobiles using gas. It will also aid in renewing of fertilizer sector and also give a boost to power and automotive sector.
Natural gas
It is superior fuel as compared with coal and other liquid fuels, as it is safer, cheaper and environment friendly fuel.

It is 60 percent cheaper compared with petrol and around 45 percent cheaper when compared with Diesel.

It can be used in domestic kitchen, transport sector as well as fuel for industries and commercial units.

It can be supplied through pipelines and hence, there is no need to store it in cylinders in kitchen, thus saves space.

It is environment friendly fuel and it can play significant role in reducing carbon emission.